Bitter, Bitter Weeks
Bitter, Bitter Weeks (My Pal God Records)
By: Alex Steininger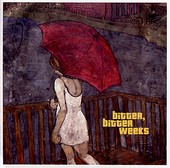 If anyone is a jack-of-all-trades, Philadelphia's Brian McTear truly is one. From producing critically lauded indie acts such as Matt Pond PA, Swearing At Motorists, and Burning Brides, to opening his own studio in his hometown, Miner Street Recordings, McTear has made a name for himself in the world of indie music, doing it all.

Stepping out from behind the boards to record a solo acoustic record, using the moniker Bitter, Bitter Weeks, McTear avoids falling prey to the deadly "engineer makes record" syndrome that plagues so many great engineers, who just can't, for whatever reason, make the crossover to a musician.

Originally recording the record with all the bells and whistles - full on production, added instrumentation, etc. McTear went back to his demos and realized the songs sounded best raw. He then went back into the studio, turned on the microphone - one microphone to be exact - and recorded his debut.

With the help of friends, including pedal steel from Jim Callan, harmonica from Chris Bradly, and backing vocals from a cast of fellow musicians, McTear has produced a collection of twelve songs that detail the loss, disillusionment, and self-doubt of relationships, life, and living day-to-day. And though a few of the songs get bogged down by less-than-stellar lyrics, for the most part McTear is on his game, reaching deep inside himself to deliver lyrics that stand up to the stripped down guitar and voice approach. I'll give it a B.