The '89 Cubs
There Are Giants... (Slowdance Records)
By: Alex Steininger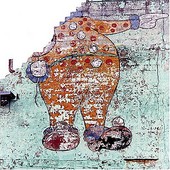 Fusing light electronics with a post-punk, experimental edge, the cleverly named, baseball loving The '89 Cubs, deliver an explosive record with There Are Giants In the Earth".

From the slow-burning, guitar-laden opener, "Candid Flames", with chanted vocals giving the song a tingling sensation, through the build-up of "Oh, the Things We Put In Our Heads", which ends very loudly after starting off so airy. To the daze of "Code of Conduct: Ghosts", or the abrasive "We Won the Party", with its post-hardcore tendencies. Here is a record that knows structure, defies it, and then weaves and sways in and out of it, experimenting at times, hitting it straight forward at others, and always having fun in the chaos.

It can be soft, spooky, pretty, dark, or completely loud. That's the beauty of There Are Giants In the Earth, it's clever schizophrenic tendencies. It heads in one direction, whether it is post-punk or experimental rock, and then goes for something completely different -- often in the same song.

But, by the end, they wrap it up nicely and do a good job of tying up loose ends, making them a band to keep your eyes on. I'll give it a B-.