Roger Clyne & The Peacemakers
Americano (Emmajava Recordings)
By: Alex Steininger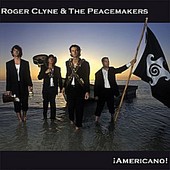 Former Refreshments lead singer, Roger Clyne delivers another South of the Border-infused, Texas-heat scorched Americana rock record with !Americano!", an aptly titled album. Along with his band, The Peacemakers, he charges through such songs as "God Gave Me A Gun", a Texas rocker that turns up the heat. The Mexican dance number, "Mexican Moonshine", the tender ballad "Love, Come Lighten My Load", and "Loco To Stay Sane", a beautiful song complimented with a nice organ and relaxed, but danceable rhythms.

He hasn't lost his ability to craft strong, memorable songs with heart-on-the-sleeve lyrics. With !Americano! his songwriting abilities have only grown. Including a DVD entitled, "A Look Inside !Americano!, Clyne treats his fans to music and the making of the music, a package that helps further your connections to the already relatable songs. I'll give it a B.