Roger Clyne & The Peacemakers
Honky Tonk Union (Emma Java Recordings)
By: Alex Steininger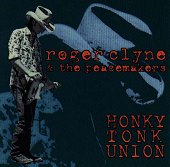 Former Refreshments' lead singer Roger Clyne forges ahead with his backing band, The Peacemakers, on the band's debut, Honky Tonk Union. Where country meets rock and pop, Honky Tonk Union is a splendid album that leaves off where the tongue-in-cheek rock of The Refreshments stopped and shoots off in several different directions, all while coming back home and sounding fresh, cohesive, and intense.

The rock of "Beautiful Disaster" will send you reeling with hearty beats, strong lyrics, and intense vocals that bring the song and its emotions to life. The sharp hooks have you listening attentively, while the pulsating charm of the song has you singing along with glee.

The country stomp of "City Girls" induces dancing and drinking; "Easy" finds the band at the apex of their country and rock fusion; and the straight ahead honky tonk of the title track tips its hat to its hillbilly roots.

Roger Clyne proves he's got more depth and dimension than he was able to showcase in his MTV buzz band The Refreshments, delivering tracks like "West Texas Moon," a cross over hit that appeals to rockers and country folk alike.

With more hillbilly in his head, the humor and fun of "My Heart Is A UFO" has the soul that Nashville's over-produced product is missing, while still offering up the hooks and the style that 'country' fans flock to.

The pensive "Green & Dumb" shows the soft, tender side of the band. But the hoe-down of "Never Thought" will keep you dancing, and the fun "Tow Chain" will make you smile and sing along.

If you've reserved yourself to listening to your old Hank Williams and Patsy Cline records to get sincere, heartfelt country that isn't over-produced and so similar in style that you can't handle it, than let Clyne remind you of what good country was built on: feelings and soul.

Taking it back to its roots and then rocking it up with plenty of fun and humor, Clyne delivers an impressive album. Rock fans will love the driving beats and the sharp hooks, and country fanatics will enjoy the drinking and dancing that will inevitably result from listening to this album. I'll give it an A.