Donovan
Greatest Hits Live: Vancouver 1986 (Varese Sarabande)
By: Gary "Pig" Gold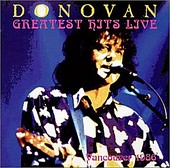 Like some sort of cosmic clockwork, every decade or so "the phenomenon of Donovan" (to quote 1968's original "Donovan In Concert") someone releases an in-person recording which stands as tall testament to the power of what just one man and one voice, accompanied by a mere six strings, can do if the vibes are right, maaaaan --and, of course, if the SONGS are there.

The magical mystery bard succeeds oh so sublimely once again on this superb document of his mid-Eighties renaissance, filled with all the hits ("M. Yellow," "J. Juniper" and, naturally, "S. Superman") alongside quite a few should'a beens (the perfectly silly "There Is A Mountain" and the wholly Animals-worthy "Hey Gyp").

Add a bonus trio of tracks from a long-lost Carnegie Hall concert plus a lone studio outtake from '81 and, well, Dig the Slowness for yourselves already!