The Nervous Return
Wake Up Dead (La Salle Records)
By: Alex Steininger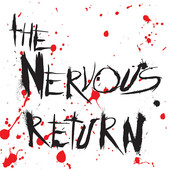 One of the first bands signed to Travis Barker's (of Blink 182 fame) new record label, La Salle Records, The Nervous Return deliver an explosive record with Wake Up Dead. It isn't punk, but it is post-punk. It isn't emo, nor hardcore, but it includes elements of both in its guitar-screeching, bass-heavy rock sound. With a drummer that knows how to play loud and fierce (but not necessarily fast), The Nervous Return deliver a record of pulsating, pumping beats carried out by a sneak attack of hooks. Just when the songs seem to be dragging, the band rips into a fierce hook that is more noise and power than melody, but it suits the powerful songs just fine.

If you're looking for energetic, loud music that isn't punk, but plays with that kind of vigor, than The Nervous Return's Wake Up Dead is your ticket. An explosive record that doesn't worry about melody and pop to spice things up, instead believing loud and straight ahead is the way to go. And they deliver the goods in doing so. I'll give it a B-.