Ween
Live in Chicago [DVD] (Ween's web site)
By: Brad Halverson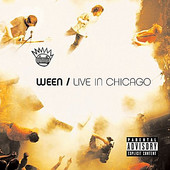 Does the world need another live document of Ween with all their previously released live albums, bootlegs, and the recent All Request Live that was just released a few months back? Sure it does! If Dave Matthews can release 16 live renditions of Two Step every year, why can't Ween bless us with their unique form of musical weirdness every once and awhile? I for one, welcome it and hope they continue to cash in for years to come. Bring em on, kids.

So anyway, this is DVD/CD combo that documents a couple of Ween's live shows from last year. "Documents" might be the wrong word for sticklers who want every little aspect of a given show represented, since this thing is definitely edited a bit. First of all, the shows are presented as a single show. This is a good thing since it allows for the best performance of each song to be used. This is a bad thing because it kind of spoils the illusion if you choose the fixate on it. Personally, I don't care. One thing that did kind of bug me is that there's very little stage banter present here which is odd for a Ween show. Whether these performances were just kept more professional for the cameras, or if the banter and pauses between songs were cut from the footage is hard to tell, but it does feel like a bit of the live Ween experience is missing. Also, there's no long Jam sessions here, which personally I applaud. Watching Dean expertly blaze through a solo in "Voodoo Lady" is awesome, but the lack of extended jams (like that long ol' version of "Pandy Fackler" I've heard on a couple of boots) probably makes this a bit more watchable for those of us who choose not to be chemically assisted while viewing. And that's another thing; am I the only straight-edge Ween fan? I've never so much looked at the "Demon Weed" yet I love this band, even their early, scotch-guard fueled albums. I can't stand the Grateful Dead or Phish, yet Ween seems like just the right kind of everything to me. Weird. Regardless, if you're whacked out on goofballs while viewing or listening to these performances, you're probably missing something. These guys are subtle afterall. Even when they seem to just be making poop jokes, they're always doing some clever thing with the melody. Like "Big Jilm" which sounds like one of the simplest songs ever but these guys just know how to write and perform catchy, indescribable music. It's almost a crime to overanalyse this stuff because it's just so pure, and even sincere.

It's easy to quibble with the setlist in these kind of things but I won't gripe about any of my favorites being neglected (They play "Baby Bitch", "The Argus" and "Chocolate Town" so I won't complain) but the setlist does focus more on their post "Pure Guava" years. This means that the more rational side of Ween is more represented here. This is fine by me since I prefer their newer work but fans of their earlier work may feel a bit neglected. One thing I have to say is that their reinterpretations of their old songs are awesome. The aforementioned version of "Big Jilm" easily trumps the original and "Dr. Rock" is just great. It's a shame that they left these performances off the CD in favor of the newer stuff. In fact, as much as I like the idea of including a CD version of the same material in with the DVD (so I can actually listen to the stuff without sitting in front of my TV) it seems odd that they chose the more typical songs for the CD, and left the older songs, and the teriffic cover of "All of my Love" on the DVD where they're sadly harder to listen to on a regular basis. Aside from the included CD, there aren't many extras in the set. Just a couple of alternate cuts and a cool (and oddly sad) video for "Transdermal Celebration". If you're into these guys, don't hesitate to pick this up as this is one of those for-the-fans packages that's more than worth your time.