Weezer
Maladroit (Geffen)
By: Jake Beamer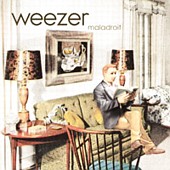 Ah... 2002 has been a great year for music of all kinds. But an album that really stuck out in my mind was Weezer's Maladroit. Their second self titled album, the "Green album", was put out in 2001, so everyone has been amazed at the prolific nature of these four men.

I have been a Weezer fan for years. I sat through their pop status with the "Blue album" (their first self-titled one, in 1994) and saw them drop off the face of the earth after the now-cult-status Pinkerton of 1996. After original bassist and founding member Matt Sharp left shortly after Pinkerton, the band went through their long hiatus, singer, songwriter, guitarist, frontman Rivers Cuomo went back to Harvard, and Weezer eventually relied on the talents of artist and skilled bassist Mikey Welsh to perform on Green and on their incredibly well-received comeback tour of 2001.

So, Weezer is still rocking strong, as Green and the 2001 tour proved. However, after Green the band lost Mikey, and so then had to fill his place with the very capable Scott Shriner.

On Cuomo and company's latest disc, Maladroit, all elements that the band has been and still is come together to make an incredibly pleasing package. Originally ensconced in scandal after Weezer continually released new mixes of the album on their website prior to its release, it's surprising to me that Maladroit actually did hit the shelves earlier this year.

Right after Green, the band wanted to do things themselves. So, Weezer, in a revolutionary process, got feedback on their album as it was being made via the internet! The title Maladroit was actually a fan's suggestion that the band liked best! Amazing as this all sounds, the final straw occurred when Rivers sent a copy of several of the new songs to many radio stations himself, as he is the band's manager. Needless to say, their label went nuts. But the band was frustrated because they funded the album themselves and put it together sans label. But all of this is just rock history, because the album is OUT, and it is amazing!

So, scandals aside, the disc came out to pretty much all great reviews, to what I have seen, and it's a damn good thing, because it's my opinion that Weezer has finally reached its full potential with Maladroit. It's diverse, it's tight, it's solid-sounding, and every song is the epitome of catchiness. Green was over-simplified with solos that mocked the melody line, which was cool and a planned gimmick, but Maladroit gets back to the Weezer we all know and love. Plus, the band likes the album because it has "big riffs" and wild solos.

Maladroit is an off-the-cuff statement of post-hard-rock love. It's tight from the opening chords of the first track, "American Gigolo", through the upbeat single "Dope Nose", the hooky background vocals of "Keep Fishin'" and the album gets better. The fan-favorite "Death and Destruction", which is track five, isn't one of my favorites. But I have to admit, the track fits well within the framework of the album's songs. Throughout the duration of tracks like "Burndt Jamb", "Slob", "Space Rock", "Slave" and my personal favorite "Love Explosion" (which features a killer slide guitar!) the album rocks hard from start to finish. The only complaint I have is that Weezer chose the slightly mediocre but still mildly likable "December" for the record's final song. Not enough of a punch for me.

I just wish they would have chosen other killer tracks that were recorded for the album, songs I got to preview - album demos like "The Dawn", "Broken Arrows" and more were great! Rivers is so prolific, he has to number his songs. I think he's up to around 377 or so. Probably more now! He also keeps an ongoing mathematical study of certain big pop bands that he thinks are amazing like Nirvana, Oasis, and more called his "Encyclopedia of Pop". Intriguing, yes.

New demos of their upcoming fifth album were recently released on their website. Three songs, one by guitarist Brian Bell! Also check out Brian's side project the Space Twins and drummer Pat Wilson's project the Special Goodness.

Weezer just finished touring with the Strokes on their Enlightenment summer 2002 tour. Next is Europe. Don't miss them when they come to your town, and eagerly await February or so of 2003, for the next segment of Weezer's pop genius. Next up is the September 17 limited release of an EP of live recordings entitled The Lion and the Witch, released only in select record stores across the U.S.