VARIOUS ARTISTS: Death By Salt
A Slug Magazine Compilation (Slug Magazine)
By: Alex Steininger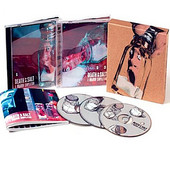 A three-disc set released by Slug Magazine, Salt Lake City's premiere music monthly. Death By Salt showcases all the talents of the Salt Lake City music scene a scene that, after listening to Death By Salt, is obviously alive and doing well - and quite diverse at that.

Disc 1 (of 3) starts off the adventure, placing bands such as Thunderfist ("Rock 'n' Roll"), a fierce rock combo that is bred on AC/DC, on the same disc as Silvox, the solo project for Julie Stutznegger. Silvox delivers "Your Taste", a tender, voice and guitar number that is as haunting as it is sweet, and dark as it is moody. Stutznegger's rock band, Stiletto also appear on the CD, on disc two, delivering "Blue Eyed Black", a track that proves girls can rock - and harder than boys, as this all-female quartet turn hard rock and punk into a mesh of fierce sounds and powerful rhythms.

The Blue Collar Line's "Heartship through the Stars" turns up the heat on disc one with its explosive, metal-meets-math-rock splendor. While "Get Stakerized!", by Get Stakerized, ends the disc with comedy and flair, delivering a track that may be laughed at, called "outsider music", and may find tomatoes thrown at the band during live performances - but that is the beauty here. A short, thirty second song, it comes and goes and suggests that you too "Get Stakerized!"

Meanwhile, disc two contains artists ranging from Debi Graham ("Cravings"), an artist who delivers a haunting, goth-infused pop-rock number that seems to build and build, without ever really delivering the promised assault, keeping the pace throughout the duration. To the Salt City Bandits, a band that loves its rockabilly and Irish pub-rock, delivering a song that would go over well with fans of Flogging Molly.

Deep Six Holiday, also found on disc two, deliver the electronics with "Lower", a dark electronica number that combines a swirling backdrop with a dark forefront, creating a soundscape of acid-induced dance music.

Disc three's highlights include the hardcore of "Nimh", Iodina's assault on "Does Your Mamma Make Gravy?", an in-your-face attack of metal-hardcore, Parker Sisters' "Shotgun Colorman", a rich, electronic-induced indie-pop song, and Stacey Board's brand of folk on "The Stone".

Everything from metal to folk, Death By Salt showcases a scene alive with the sound of music. Fifty-nine bands, three discs, nice packaging, and a huge booklet with information for every band, Death By Salt succeeds at being a strong compilation that showcases scene diversity and unity, while giving music listeners a rich collage of good tunes and new bands to discover. I'll give it a B.