INTERVIEW: Sloan
Canadian's finest finally release new record in the U.S. - and talk about it! (Koch Records)
By: Alex Steininger



Though they're big in Canada, Toronto-based rock act Sloan has failed to catch on, in a big way, in the U.S. Still, they've managed to amass a small, loyal fan base in the states, which helped them land a label deal with Koch after their parent company, BMG, and their U.S. sister label, RCA, failed to release the band's latest record, Action Pact.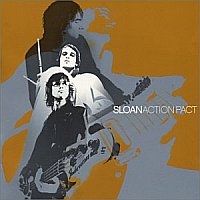 "It is convenient it came out later down here in the U.S. so we could come down here later and tour in support of it," says guitarist and co-songwriter Jay Ferguson. "Otherwise, we would have been busy touring Canada and wouldn't have been able to make it down to the U.S. to tour in support of the record until much later".
For the first time in the band's history, they hired a producer, Tom Rothrock (Beck, Elliott Smith, Badly Drawn Boy), to help them with their record. On all previous records, they had maintained complete autonomy, even going as far as to license the record to the label and retain master ownership.
But, when it dawned on them they might get a bigger push from their label if they handed over ownership to the masters, the band went for broke, opting to do things they've never done before. And hiring Rothrock was one of them.
"Normally we don't use producers, and normally we record the records ourselves, but BMG up here was really pushing for us to use a producer, so we did," Ferguson confesses.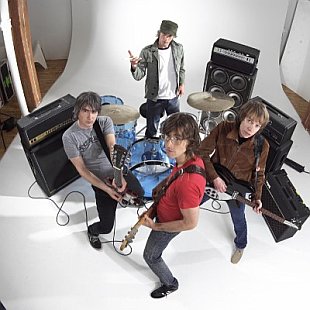 "It was one expensive proposition," he continues. "It was an experiment and it was time for it to happen. Since BMG owns the record, they put more money into it. Before we'd license them the record and they'd handle marketing and radio, so there was a vested interest, but not as much so if they owned the masters."
It was this gamble that allowed the band to free themselves up and throw out every preconceived notion of what Sloan was and wasn't. And, even though Ferguson says it didn't change much in terms of the label's push of the band or result in higher sales for them, like they had hoped, Ferguson still stands by the band's decision, saying it was the right time for it to happen.
"We gambled and wanted to see if it would pay off and it didn't. But, we have no regrets. We needed to do it to see what would happen."
The band has no regrets, because they learned a lot working with Rothrock, citing it as one of the most memorable recording experiences of the band's career.
"Rothrock came to our rehearsal and we gave him thirty-five songs to choose from," says Ferguson.
Though, for the first time of any Sloan record, new father and drummer Andrew Scott isn't represented on the record.
"If there is one drawback [with Action Pact] it is that Andrew isn't as represented," Ferguson tells me. "But it wasn't because Rothrock didn't choose any of Andrew's songs, it was merely because he didn't have time to write any new ones while changing diapers and being with his family."
Rehearsing the band before they went into the studio, the band did the basic tracks to Action Pact in two days, another first for them. Where in past recording sessions they would build the songs on tape, Rothrock forced them to develop them live first, then record them.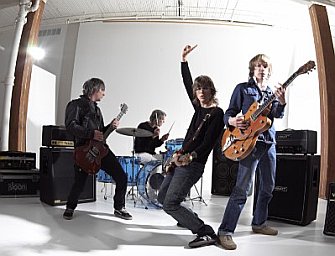 Whereas previous records are all over the map, Ferguson is quick to point out that Action Pact, due to the rehearsing, is more focused and concentrated, but reminds me that it is still only one example of what they can do as a band.
After spending only two days recording the songs on the floor, they spent a month and a half doing overdubs and mixing the record, before heading back home to Canada and turning the record in to the label.
"Normally, once records are done and turned in, we would get together, spend some time with the record, and rehearse it so we could play it live. We didn't have to this time, since we build the songs live, and not on tape".
Ready to tour, and with a new record in tow, the band has been playing and touring as much as possible. Look for them to tour the states in the fall.