INTERVIEW: Small Brown Bike
Nail Yourself to the Ground (No Idea/Smallman Records)
By: Marika
Photographs By: Marika


"Place these knives into my chest
Twisting and sticking
Relate and then take them from me.
Remember me now?"
- "Fami(liar) to You", Nail Yourself to the Ground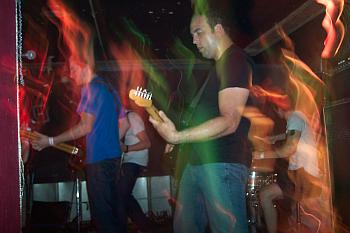 Small Brown Bike are on their way to the San Diego date of their West Coast Tour; Travis Dopp (guitars and backing vocals) and I are speaking over the phone after three days of tag.

Playing their CD, Dead Reckoning (No Idea) at The Happy Hour has become one of my favorite albums to almost break stuff to. (Bobby, you best show me some love on that jukebox--) and has given me hours of continuous drunken pool-anger management. "More or Less", "My Own Disaster", these songs and others quelling whatever surges of angst I was trying to ease by playing pool (it's cathartic, yeah right). Which, if you've ever heard me scream "Fuck!" after missing a shot I shoulda made... well that says it all. Listening to the array of No Idea and Epitaph on the juke only helps, never hurts. "Nail Yourself to the Ground" promises to keep the power behind the textural guitars and sincerity that has claimed a thousand quarters from me.

M: Is it still the same motivation? (re; being a unit for eight years.)

T: It's not as easy as it used to be.

M: Why, how old are ya'all now?

T: 27. It goes 27, 26, 24, 22.

M: Nice little sliding scale. Nobody's jailbait. (ahem).

T: What?

M: So the music-- I've been playing the CD, Dead Reckoning. I play it all the time in a jukebox at the pool hall. And I was wondering; has the music turned into a form of anger management? A lot of your songs are pretty angry.

T: I think it's better than going out and getting in a fight, I think it's a better way to deal with a lot of things. If it's not with communication, play it with music, instead of overreacting. To any given situation.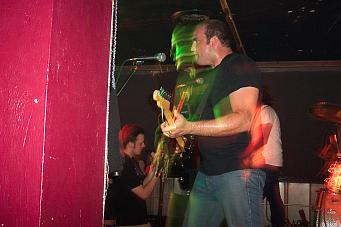 M: Do the songs kind of write themselves, or do you write them together?
T: The way I write my songs, I write my part. And then I show my idea to the group and we all start jamming, and that's how it comes together. If Mike writes the song, Mike will sometimes show up with all the parts written, and everyone takes their part and plays it how they wanna play it. If Ben writes it, Ben writes every part.
M: So sometimes it's a dictatorship, sometimes it's a democratic thing.
T: Yeah. We all just write our own parts. But most of the time, someone shows up with a grand idea - and then boom - right from there. And sometimes someone puts something on the table that's perfect from the start.
M: You've been touring for eight years, has No Idea always been distributing you?
T: Which albums? Our Own Wars, Dead Reckoning, and The Collection compilation (plus Compilation #100, released in 11/02). And an EP that just came out right now - Nail Yourself to the Ground (No Idea/Smallman Records).
M: So when you're on tour, what do you hope to achieve? (Sounds silly to ask but people do having different reasons for such abuse; and make no mistake-- it's a form of communication and expression, yes, but it's a hard lifestyle.) Who do you think comes out for your shows, when there is a crowd?
T: Every kind of person you could think of. We've played so many different kinds of tours, played with so many different bands. We get punk rockers, hardcore kids, indie rockers, you get everything. Every kind of person you can think of we've had at our show. It's a real mixed crowd, and it's cool.
M: All ages, all types, all sizes.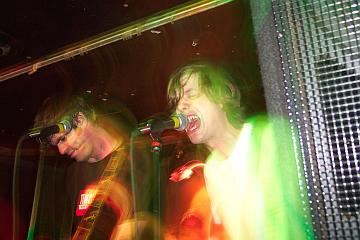 T: I really don't like to put myself focused in one area, I'm not like that in life. I don't wanna put my music as a focus on one thing, I want everyone to come and enjoy it. Whoever wants to enjoy it can enjoy it.
M: If somebody asked you what color your music was, what would you say?
T: I have no idea, maybe purple, I don't know.
M: Muddy purple?
T: Yeah-- Maybe green.
M: Why are people drawn to destruction? Like, when you pass a car crash on the road--
T: Why everyone looks at it?
M: Yeah.
T: I was just doing that myself. We just passed a really bad car accident. And I was looking; like 'what is going on'? There was a helicopter in the road, I mean I don't know what draws me. The curiosity? I mean, hopefully everyone's okay. I don't know, maybe it's that we're sick. I don't know, maybe we're all sick.
M: I'm psychic, huh?
T: Yeah.