Wuthering Heights
Far from the Madding Ground (Laser CDs)
By: Jeb Branin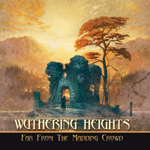 Although I think this is a sophomore effort, I had never heard WUTHERING HEIGHTS before. I'm impressed. The band takes neo-prog metal, colors it with hints of folk, and packages it in some first-rate power metal. Too often bands plying their trade along these lines forget to do the simple things (for example, they forget heavy metal should be both heavy and sound like metal - duh) but W.H. makes sure that they don't sacrifice the basics. W.H. brings to mind SKYCLAD (although they don't sound anything alike), for several reasons... the folk influences, the solid song writing, and the real metal roots. The appeal of this band is going to reach across many spectrums of metal.

Fans of everything from thrash metal to prog rock to dark metal are going to find something here to latch onto.