The Wunder Years
Pitstops on the Road Less Travelled (Tomato Head Records)
By: Alex Steininger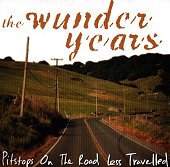 If the word 'emo' scares the shit out of you because it reminds you of pussy rock bands that just want to sit and wine, wearing their hearts on their sleeves and stunned to death every time someone comes over and rips it off, leaving another open wound to heel, than The Wunder Years might just be the band to make you enjoy emo again. Equal parts emo and punk, the band takes their lead from bands like Jawbreaker, Knapsack, The Get Up Kids, Fugazi, and Jimmy Eat World (to name a few), as they deliver heart-on-the-sleeve punk rock with plenty of slicing guitars and hammering rhythms for you to chew on.

"Go Kid Go" rips through you with a punk attack of guitars, bass, and drums. The vocals cut straight to your heart with their bleeding, emotional screams. "Somewhere In The Middle of the Pacific" opens the wounds with a soft, trickling stream of guitars and a toned down rhythm section before ripping into the punk-emo that will burn your hands and make your head go numb. And "Vacations/Separations" will leave you with a tear in your eye, as the band goes mellow and dwells down to soft, pondering emo that hits you straight in the heart and just won't let go until you're feeling every supple layer they dish out to you.

The Wunder Years are a punk band, first and foremost. But emo runs deep in their blood and souls. And as they fuse the two, the dynamite is detonated and sparks start to fly. If you want to be moved and to have something to feed off of, here is your chance. I'll give it a C+.