Thorr's Hammer
Dommedagsnatt (Southern Lord)
By: Jeb Branin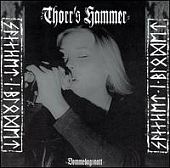 THORR'S HAMMER was a Pre-BURNING WITCH band that featured Runhild Gammels...ter, a drop-dead gorgeous 17 year old (at the time, circa 1995) woman whose earth-splitting growl is so harsh and so heavy that it sounds like it is coming from a 400 pound biker whose "Live to Ride, Ride to Live" tattoo was done directly on his vocal chords. This is the voice that countless crust and doom vocalists would give up a lung to have.

Certainly any and all doom/sludge/slowcore fans have heard BURNING WITCH and know the ponderous pace at which they played, right? Take that, make it even more bone rattling (I know, you wouldn't think it possible) and add a voice that gives Lucifer himself nightmares, and you have THORR'S HAMMER.

The band was only in existence a short time, only recorded three songs for a demo, and only played two shows. The band's music never got a proper release before this because the first press of this disc was the first ever Southern Lord release, was poorly distributed, and is long out of print. As a result, this has been a highly sought after cult classic for years. This is a welcome re-release indeed. In addition to the band's three studio songs a fourth track recorded live has been included on this CD bringing the total running time to over half an hour. Additionally a video of one of the band's two shows is included as an mpeg file. You MUST own this. Seriously. There ought to be a law or something.