Those Peabodys
Unite Tonight (Tiger Style Records)
By: Alex Steininger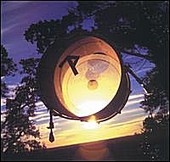 Unite Tonight, the second full-length from Austin-based quartet Those Peabodys has been described as "what could've happened if Thin Lizzy had gotten high with the Cars while listening to Cheap Trick", at least in their press release.

However, Unite Tonight fails to live up to such a description. Sounding like a band trying too hard to be retro as they forcefully mix 70s arena rock, power-pop, and garage rock into one palatable presentation. This average bar rock band succumbs to their own appetite and wears their influences on their sleeve as they strive to be original, but come out sounding horribly mediocre.

Still, rock and roll was never about originally, and if you like bland, unoriginal rock, Those Peabodys are loud and entertaining (even more so live, I'd imagine), and therefore, Unite Tonight has its charms. If you want a record to blast a party and are at a loss, and this one is around, pick it up, crank it loud, and get your groove on. It does have a lot of energy, I must admit. I'll give it a C-.