Crisis
Like Sheep Led To Slaughter (The End Records)
By: Jeb Branin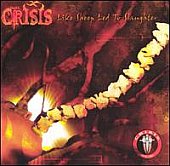 Here is an irony that only about 10 metalheads in the world will notice... In 1979 a metal band named CRISIS influenced by the new wave Of British heavy metal was formed in Salt Lake City, Utah. In 1983 one of their demos caught the attention of Bullet Records (fittingly enough a British label) and their classic Armed to the Teeth album was released. Although Bullet went belly up a couple of years later, CRISIS continued releasing material including an album called Kick it Out, a 7" called Keep Fighting, songs on compilations, and a best of retrospective called Saved From Extinction.

The band was even bootlegged with a 90 minute cassette album called A Decade of Disasters. In the 90s the band changed their name to ROUGH NIGHT and released more material, changed their name again to 440 and released more material and again changed their name (this time to HARD BARGAIN - with all the original CRISIS members), releasing a full length CD a couple of years ago. CRISIS was one of the most significant metal bands ever to hail from Utah (the MOST significant in the 80s).

So here is the irony... A New York band also named CRISIS surfaced in the 90s and released albums on the Too Damn Hype and Metal Blade labels. The NY band was far more high profile than the SLC band and contributed greatly to the SLC band changing their name. Now, The New York CRISIS (after a long hiatus that included a short-lived name change) has a new album out on The End Records which is based in, yep, Salt Lake City. Interesting? Probably not. But you now know some metal trivia that even your most oldschool friends won't know.

So how is the new CRISIS (NY) album? Great. Karyn Crisis' voice wraps around a powerhouse delivery that is equal parts thrash, death and doom. CRISIS was always noteworthy for their non-conventional delivery, but they also always managed to not go so far "out there" that fans couldn't relate. All of which is certainly still true. This CD is like nothing you've heard before, yet has all the right pieces to connect with even the least adventurous of headbangers who want it brutal and want it NOW!