Belle & Sebastian
Dear Catastrophe Waitress (Rough Trade)
By: Cam Lindsay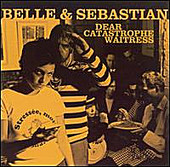 The last few years have seen Scotland's favorite awkwardly shy pop collective struggle with their tune. 2000's Fold Your Hands... and 2001's Storytelling (the original soundtrack for half of the Todd Solondz film) were equally unfulfilling. The spark that ignited their first three records, along with their random, excellent EPs, went missing, possibly because of their desertion of two key members: Stuart David, who left to work as Looper and an author, and Isobel Campbell, who preferred to work as The Gentle Waves and herself.

Thankfully, Belle & Sebastian have got it together with the help of Trevor Horn, producer of Frankie Goes To Hollywood, Pet Shop Boys and most recently, everyone's favorite Russian teenage lesbian couple, tATu. The thought of B&S working with Horn is a little shocking at first, upon hearing of his past work, yet, this partnership couldn't have worked out any better.

Dear Catastrophe Waitress isn't so much a welcome return as it is a fresh new start for Stuart Murdoch's bunch. "Step Into My Office, Baby" is a revitalizing beginning to their debut record for Rough Trade. With an odd perkiness and a fun beat to it, Belle & Sebastian have certainly learnt a thing or two from the man behind the music, and we're not talking hints to get around a sexual harassment charge. The title track doesn't see the pace slowing down either. Murdoch does his masterful "storytelling vicar" routine without flaw. Such activity, we've not heard since "Legal Man", and that was believed to be a one-off.

From there on, all waters are tested: classic Al Green soul ("If She Wants Me"), baseball ("Piazza, New York Catcher"), kitschy synth pop that doesn't sink to the low standards of "Electronic Renaissance" ("Stay Loose") and Phil Lynott riffage ("I'm A Cuckoo"). Yes, we've never heard a more enthused Belle or Sebastian, and it may be different, but it sure is damn good. Damn good.