Belladonne 2
A Sampler of Fairy Voices (Prikosnov?nie)
By: Carolee Harrison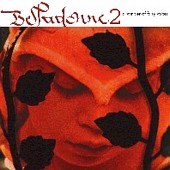 This compilation is subtitled `A sampler of fairy voices,' but the vocalists represented here do not spin insubstantial confections meant to hover prettily in the background and evaporate carelessly. The international representation of artists on this sampler, the breadth and intricacy of their musical styles, and above all the depth and diversity of their `fairy voices', create instead a beguiling and timeless atmosphere closer to a true fairy tale of enchantment and secrecy.

The beauty of the vocals is the expressed theme of the compilation, and each track is graced by a uniquely evocative voice. From the searching flight of Louisa John-Krol's "Blackbird" to the strange Middle Ages feel of Gor's "Kalila," from the soothing ethereality of Jack or Jive's "Darkwoods" to the sorrowful sweetness of Collection d'Arnell-Andrea, the voices represented here have a depth of range and variety of style that provokes interest and enlivens the spirit.

The influence of medieval music and instruments contributes greatly to the album's magical, out-of-our-time mood. The standout "Princess Me" by Caprice, with Inna Brejestovskaya's bright, classically precise, and charming vocals, is beautifully accompanied by layers of twining harp, flute, bass, and strings, a song for an ordered but blooming eighteenth-century garden. The presence of Ataraxia's Francesco Banchini, here performing as Gor, guarantees a fearless use of unusual traditional instruments and vocal style. Fans of The Moon Lays Hidden Beneath a Cloud and Unto Ashes will enjoy Gor's contributions, as well as the flute-accompanied "Arcano Manoscritto" by Anima in Fiamme, which sounds as though played from a gondola in Venice centuries ago. Another standout track is the Indian-influenced, serpentine "Zeloun" by Gor and Chako (of Jack or Jive). Its satisfying, deep percussion, insistent Eastern rhythm, and Chako's lucid, penetrative voice (better explored here than even on the more ambient track by Jack or Jive) recalls the uncoiling energy of the Changelings.

As with the darker, true fairy tales, these selections reveal their intelligence and inspire contemplation as their beauty seduces. Louisa John-Krol's summoning "Blackbird," Collection d'Arnell-Andrea's pensive and delicate "Un parc, une tonnelle," and Jaramar's operatic, rising "Como una pintura" all play on the emotions and demand a moment of reflection. John-Krol may be noted especially for the stirring power of her voice combined with moving percussion and flowing strings that carry the song forward. The Greek pair Daemonia Nymphe set a ritualistic tone with the incantatory "Hymn to Bacchus," with dulcimer notes and thundering drums that recall the yang t'chin strings and tympani that Dead Can Dance made familiar, and Christian Wolz updates, elevates and brightens a monastic chant with "Culoquia," recommended perhaps for those who enjoy Arvo P?rt or the Hilliard Ensemble. These latter tracks and Anima in Fiamme feature male vocals as well, rightly opening the realm of `fairy voices' to both sexes.

Those who enjoy "heavenly voices," medieval and neo-classical arrangements, and Eastern-influenced darkwave will all revel in this sampler from Prikosnov?nie. The diversity of offerings here widens its appeal, while the unfaltering beauty of the voices and instrumentation holds it well together in an enchanted, firelit fairy circle. It's an irresistible invitation to explore further releases from these artists and the label.