Various Artists
Punk Rock Is Your Friend (Kung Fu Records)
By: Vinnie Apicella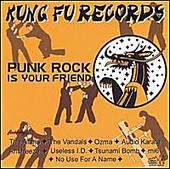 Not only is Punk Rock your friend, it saves you pennies-- lots of 'em. If Kung Fu's only charging four bucks a pop here, do the math. There are some twelve or thirteen different bands and eighteen tracks! It's almost like a demo band hand out with cute graphics and go get 'em at the next club. None of 'em are making a dime off this release and there's a reason for the one page insert. Their fourth sampler features some of the prettier heavyweights of the Punk/poseur community, primed for further growth or already dipping their toes in the mainstream of crossover success. Popular team players include bands like Ozma, Audio Karate, The Vandals, Useless I.D. and The Ataris, all of which have helped smooth over the ruffled feathers of Pop fans who thought Punk bands couldn't play nice. Ranging from clean to vicious, Tsunami Bomb's "Say It if You Mean It," to The God Awfuls' "Disconnected Youth," the roster's got a good mix of previously released, unreleased, live, and should've stayed the fuck home. The God Awfuls are a newcomer to their scene and with a fourth place rank in appearance here, prove they're prepared to outdo the smiley-faced pansies by brining a sneery, snotty, UK extreme to the angrier style of playing. The Vandals are just being themselves, which kind of runs somewhere between NOFX and showering with your shoes on; but they're mega-talented and too damn much fun with this unreleased thing called "Count To Ten."

It'd be easy to preconceive the front running bands as being Weezer-style clones, not that we're going totally without with Ozma's "Turtleneck Coverup" or Useless ID's "Too Late To Start Over," but there's a solid mix of breeze and brawn that bypasses usual expectations of the sixteen song sound-alikes going through the motions of already released rust no one raised an ear to in the first place. One Man Army's the first live appearance here doing "S.O.S." from the recently released "Show Must Go Off" Live Concert Series, and I must admit, and this is probably the live feed, but it's a might more tuneful in an almost UK Subs, Buzzcocks sort of Punky yet Brit-Pop sort of way. Who the fuck's Neil Hamburger? The Atari's are among the Emo/Punk elite, ranking among the New Found Glory and Taking Back Sunday types with their previously released "Bad Case Of Broken Heart." There's a couple expected replays down the list but overall, there's quality stuff being peddled here dirt cheap and not to mention six videos including the cool One Man Army tune and also Alkaline Trio who's not featured in the audio line up-- strange. So yeah, go out and make friends with Punk Rock, fork over a few bucks, fit in with the out crowd and flip off the rest.