Various Artists
qfg: A Compilation (Parametric)
By: Jett Black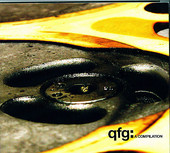 PARAMETRIC launches their boldest effort to date with a 3CD compilation set featuring 45 amazing artists contributing to the INDUSTRIAL NOISE music genre.

PERSONAL FAV's...

q: (DISC 1) Mlada Fronta, Mimetic, Haiku, Shizuka, and Von Magnet. At times, the diverse range of musical talent also dips into moments of COLDWAVE influence and appreciation. Sprinkle sporadically with TRIBAL PERCUSSION and oscillate in perpetual motion!

f: (DISC 2) Apophasis, Mid&Ric, Audioside, and De Mange Machine. ALL tracks suitable for weaving into cinematic entertainment. Moods range from voyeuristic space music to manaical noise brain hemorrhages. Excellent bed, source, and transitional noise for any DJs!

g: (DISC 3) Milligramme, Lith, Rudra Vena, Morphoex, Komplex, Zerogoki, Le Son de Convergence, Stelladrine, and Mourmasnsk150. Hard Hat Required! Without any doubt, in this digipak, Disc 3 (hands down, my favourite) delivers the MOST INTENSE INDUSTRIAL NOISE cuts randomly unleashing hazardous instrumentation to lacerate any curious bystanders.

My prediction: qfg: 3CD digipak supplies will NOT outlast the avid interest in this superior music collection.

Die-hard digi-pak collectors and fans of new music releases unleashed by PARAMETRIC will confirm that PARAMETRIC exceeds ALL others in digi-pak design appeal, raising the bar of "excellence"!