Betty Blowtorch
Last Call (Food Chain Records)
By: Alex Steininger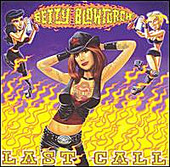 Last Call is a collection of unreleased material, rarities, outtakes, live cuts, and some of Betty Blowtorch's staple songs. It also is a remembrance of the late Bianca Butthole, the band's bass player and vocalist. Her life was cut short in December 2001 when she was involved in a car crash in New Orleans.

"--celebrating the life of the late Bianca Butthole, the undisputed queen of kooks-- Five foot nothin' and roaring like a lion through a moppy mane, there has never been and never will be another like Ms. Butthole-- the wound-up, playin' it strictly for laughs and madness, bass pounding goddess of L.A. rock, the chassis beneath Butt Trumpet and Betty Blowtorch," reads the CD's liner notes.

Including punk rock ditties by the likes of "I Wanna Be On Epitaph", "Fish Taco", Shut Up and Fuck", "Ode To Dickhead", "Teenage Whore", and the "Betty Blowtorch Anthem", Betty Blowtorch pounds out unrelenting, pull-no-punches punk rock that has no quarrels with speaking its mind.

Controversy, laughs, and crudeness are all apart of the game, and nobody understood this better than the master, Bianca Butthole, whose songs are all about rock 'n' roll.

Bianca Butthole represented rock 'n' roll like no other. Forget the pretenders, Butthole was, and still is the queen of rock. And Last Call stands as that testament, so drink it down. And pound it back many more times to follow. I'll give it an A.