Betty Blowtorch
Are You Man Enough? (Foodchain Records)
By: Alex Steininger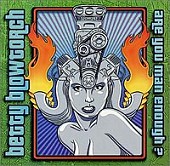 Sex, drugs, and rock 'n' roll, nobody emphasizes this lifestyle more than the gals of Betty Blowtorch, a four-piece band ready to rock, drink, and fuck. Imagine The Ramones and AC/DC, battling it out on stage. Now imagine that same scenario, put rocker women in the place of the two bands, and you have Betty Already.

Listening to Are You Man Enough? is humbling. No matter how big you think your dick is, Betty Blowtorch will laugh at its small size, belittle you, use you up, and throw you away, before moving on to the next sucker ready and willing to be taken advantage of by these rock divas.

The lack of substance is what Betty's all about. There really isn't anything here except good party rock, but unlike others who attempt the same thing, Betty is damn good at it. They'll make you hard, make your pants sticky, and make you want to get up and rock out. And isn't that what rock is all about? I'll give this an A.