Starlight Mints
Built On Squares (PIAS America)
By: Alex Steininger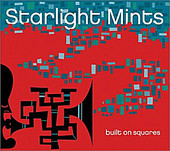 Norman, OK quirk-pop outfit Starlight Mints' sophomore record, Built On Squares, finds the band exploring massive terrain. While also delving straight into orchestrated pop, creating a cocktail that relies on as much Vaudeville as it does rock, a sense of humor as much as it does style, and charm as much as wit.

From the Vaudeville-esque opening number, "Black Cat", through the bouncy, folk-based indie-pop of "Rinky Dinky" (which is also not without its quirky, left of center, tongue-in-cheek sense of adventure). Built On Squares delivers a record that will leave all who hear it questioning why the band isn't that much bigger.

It's a strong sophomore effort that lays on the sugary sweetness quite thick, but plays with you at every turn. I'll give it an A-.