Portastatic
Autumn Was A Lark (Merge Records)
By: Cam Lindsay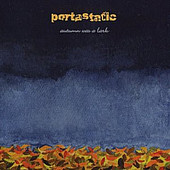 Hot on the heels of April's Summer Of The Shark, Mac McCaughan is already back with some more Portastatic gems. More like a companion than a proper follow-up, Autumn Was A Lark gathers four new versions of tracks from Summer along with a couple of new ones and a bunch of covers, all prepared for their first ever big tour. The brand new lead-off "Autumn Got Dark" sees another side of Portastatic, introducing a quirky, almost dirty rock sound that gets the blood and adrenaline flowing rather quickly.

McCaughan's hero worship of Springsteen is captured nicely on his treatment of "Growin' Up" and "Bobby Jean". Both are performed as if the Boss's spirit has inhabited McCaughan's body, giving off that undeniable cool that made him a legend. Badfinger's "Baby Blue" and Ronnie Lane's "One For The Road" do much more of the same, capturing the heart of the original and recreating the glory. The only drawback to Autumn is how segregated it all feels once the acoustic tracks kick in. Though it was originally planned as an EP, it still feels like two EPs thrown together instead of a full-length. Yet, such a weak complaint as that is hardly a reason not to recommend this to any fan.