Mick Farren & The Deviants
On Your Knees, Earthlings!!! (Total Energy)
By: Gary "Pig" Gold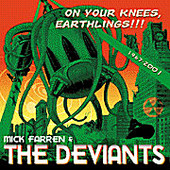 Mick Farren is one of the greatest madcaps Britain has yet to produce, I hereby loudly exclaim, and "On Your Knees" gathers together yet another full hour's worth of luscious musical lunacy spanning he and his Deviants' past quarter-century-plus of service towards inhumanity.

Indeed, wherever to begin?! Perhaps with a cover of one of Frank Zappa's earliest and best salvos of social dung-tossing (yes, the "Freak Out!"-vintage "Trouble Coming Every Day"), not to mention a perversely Sabbath-sounding rendition of His Bobness' "It's Alright Ma." Along similar lines, a wickedly Dylanesque take on Nanker Phelge's "Play With Fire" (complete with wholly appropriate background choruses of chiming Marianne Faithfulls to boot) is soon enough followed by a frighteningly apt "See That My Grave Is Kept Clean," served here Stooges-style I kid you hardly, lest this particular musical circle be at all unbroken.

Then from the mighty pen of Farren himself comes, to cite only several, "All In The Picture" (Beefheart meets Buzzcocks!), "I'm Coming Home" (utterly worthy of Eric Burdon's New Animals circa "The Twain Shall Meet") and a trio of songs, "Deviation Street" especially, which SO easily out-Barretts the extremely early P. Floyd with one bottleneck tied behind its back.

Yet still, I only touch but the tip of the sonic iceberg here my friends, and can only now urge all to seek out this disc, and its companion collection "Th is CD Is Condemned," as very quickly as you possibly can. Promise, everyone?