Jeff Buckley
Live At The Sin-E (Columbia Records)
By: Holden Odietamo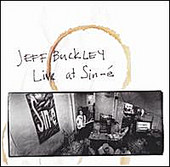 Death sells, and that is a fact. Whenever an artist dies he usually tends to sell more records after words. This proves true with Jimi Hendrix, Janus Joplin, Jim Morrison, Kurt Cobain, Bradley Nowell, and of course Jeff Buckley. Now while the majority of posthumous releases, especially for the former five of the six artists above, have been released as a marketing scheme to make a few extra dollars, this does not hold true with Jeff Buckley releases.

If Jeff Buckley decided not to go swimming that day in 1997, right now music might not be the same. But, because of Buckley's death we have been left without one of music's finest voices and songwriters.

Jeff Buckley's mother is someone who obviously knew this, and so she has been the sole reason of almost every posthumous Buckley release.

She doesn't waste a minute on the records either. The re-release of Jeff Buckley's Live At The Sin-E EP is not just a re-release, it's a full makeover with over two extra hours of music. Granted much of the music was released on Grace, Sketches For My Sweetheart live The Drunk, and the multitude of other live albums, but nonetheless this has become one extremely powerful work.

This was once just a 25-minute EP, and now it is an opus to the greatness of the late Buckley.

Hearing Buckley play most of his songs with nothing more than the clean tone of his blonde telecaster and his 8-octave voice is quite haunting. Buckley's voice soars with his Robert Plant-esque ohs and ahs and his part Hendrix part Nick Drake style songwriting is just as impressive. It is safe to say that Jeff Buckley did not reach his peak as a performer or songwriter before he died, but with that said one has to wonder how much more amazing Buckley could have become if he had lived.