Dolorean
Not Exotic (Yep Roc)
By: Alex Steininger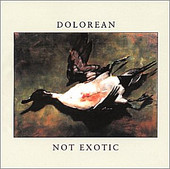 ] Portland, Oregon-based singer-songwriter Al James and longtime friend Jay Clarke (also a member of New York-based indie rock outfit The Standard), have teamed up to flesh out James' songs. The project, Dolorean, and the debut, Not Exotic, are fine examples of prime songwriting. James delivers a spellbinding collection of diary-portrayed, acoustic-based, feathery songs that make you want to cuddle up with a pillow, put the record on, and slip into a world of slumber.

With his summertime breeze voice, cooling you off after a hot, scorching day, and fall-to-winter compositions that recall the sadness of going back to school and the end of summer. But, the hope of snow and fun to come (not to mention Christmas break), James' eloquently-penned numbers sweep by you like a long lost friend you can't stop to talk with, or a dream that is seemingly within your reach, but too far to obtain any time soon.

They are laced with melancholy, spruced up with optimism, and loaded with airy, gentle instrumentation that floats around James' voice and fragile acoustic guitar strumming.

Dolorean seemed to come out of nowhere with Not Exotic, winning over the folks at Yep Roc, and finding themselves signed for their debut. And with good reason.

For all the above-mentioned reasons and more, Not Exotic, and, more specifically, Dolorean, deliver neo-folk with whispering melodies, hushed hooks, and all-but-forgotten style, drafting as much classic influence into play as they do modern.

The result is a timeless record of unprecedented beauty.

Put on Not Exotic and tell me it doesn't make you want to cry, want to love, and want to forget your worries and have a good time - whatever the occasion. And isn't that the meaning of music? I'll give it an A+.