Capture The Flag
Start From Scratch (Go Kart Records)
By: Vinnie Apicella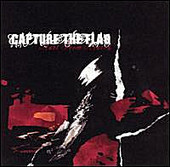 Looks like the third time's a charm for the Michigan-based misfits with the Pop hook and power groove. CTF's a retro-minded Pop / Punk outfit with Metal urges. They take similar routes as up and coming peer members like Anberlin, Boy Sets Fire, and Spitalfield and add a raw energy that's heavy on the grime and a foot above the gutter. A finely tuned trio that's as conscious of lead in's and lead playing as others are of recording one good one and renaming the rest of the same an album over, CTF's shaped in the mold of yesterday's underdog of an AOR-driven ambition. It's more about making waves than radio waves. Every ounce expulsed from tracks one to eleven is easily distinguishable and digestible; rare in an age where song titles too often shack up with the sight unseen behind the scenes band members, leaving little left to consume for the hungry listener start to finish.

Hearty yet heavy tracks like "Going Through The Motions" and "607" "start" the record in heated fashion where phaser-fed chords and rusty hooks merge with melodic breaks and lollipop-like lyrics reminiscent of Garage Rock's infancy. Vocalist Jeff Tuttle doubles as the excitable anti-hero letting his emotions wail and fingers walk, chugging through a roughly mixed, steam blowing windbag of riff-ridden chunks about interrelational screw ups and starting over. "This Is Worthless" and "Anti-Gravity Club" are a plosive punch in the gut past the halfway point, blasting a Thrash Metal and Punk fury with anthemic charm to further blur the lines and furthering CTF from the rest of the wandering pack. If you threw together bands like The Descendants, Dogwood, and Dag Nasty, mixed in some previously mentioned Emo/Punk talent, scraped the scattered remains of Scandinavia's Death Rock scene, the resulting reaction would be something like this... "Start From Scratch." Staggering!