Reach 454
Reach 454 (Lava Records)
By: Vinnie Apicella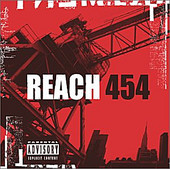 The New York foursome comes out stinging on their self-titled debut, a hooky, heavy rock record with an inspired strength of will to power. Sick Of It All and seven years ago, the former H/C crew's guitarist, Richie Cipriano's vision is "reached" and realized in the form of this tight-fisted new project which also boasts the introspective vocal work of Rene Mata, an uprising talent with a tale to tell and wound to seal.

Early indications are of an impenetrable shell of body armor as the singer squawks of rear viewing deceit, "New Scar," "Wake Up," "Am I Wrong," all following the atypical low chorded slow-ground Nu-Metal tuffness but it's during those unexpectedly tender moments when the band lets the guard down interspersed among the tension that they really glow among the darkness -- "In Your Arms," "6 Yrs," "Until The Day I Die." "Follow You Down" is among the catchier titles as Mata stirs about side stepping self-destructive tendencies, while "Come Apart," featuring Papa Roach singer Jacoby Shaddix shouts about salvation in what should amount to the more popular tracks of the album but truth be told, it's too simplistic and straight-laced. "Last Time" and "The Enemy" finish with a flurry furthering the notion of breaking ties with skeleton-boned shackles of past slips, with the former aiming straight skyward toward the overall album height.

Reach's strength also lays in their perseverance and passion which rings true in their lyricism and bristling intensity; nothing fancy, downright brutal at times, and their sense of corner turning flexibility with melodic interplay and natural verse. I keep thinking the vibe could be strengthened by a well-timed guitar solo now and again -- first, second, and sixth songs scream for 'em(!) or some extended bridge work. Their self-titled comes away with a natural Hardcore intensity and emotive essence similar in style and mood to many of your Stereomud, Taproot, Adema types and makes for a decent debut with a few forgettable one-gear throw aways.