Kalmah
Swampsong (Century Media)
By: Vinnie Apicella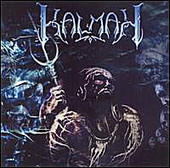 First song starts off like it was lifted from an old Running Wild tale. Then, Kalmah, this menacing Finnish creature emerges from the dark, trident thrust upward and into the night air this surging force escapes to shatter all precept of Finnish-spun Folk Metal. Their bio spins the usual idol-worship yarn presenting the next cutting edge entry in the Scandinavian Power, Black, and Death dance, laying it on thick enough to doubtfully acknowledge and expect little else. About halfway through, you realize they're definitely for real and primed to place at the frontline of the better bets their fellow forefathers laid forth in recent years.

Featuring a well-executed instrumental mastery bore of a traditional Thrash-style shred and a barrage of quick fills and blastbeats, their music's at ease in the underground extreme yet tastefully offset by melodically sound innovations threaded from synchronized guitar and key arrangements to extend the usefulness in bridge breaks and enchanted forestry thematics. "Heroes To Us," "Cloned Insanity," "Doubtful About It All," "Tordah" -- are to name but a few, and are done without the bloated excess of progressive egoism to lose sight of start to ending points.

Each song opens distinguishably catchy and sets a quickly defined pace dictated throughout some four to six minute excursions of true Metal musicianship that's a crossfire of aggressive and majestic tendencies pitting primacy with modernism. Last year, "They Will Return," their second full length, signaled the start of something special for Kalmah. Now a year later they return to the mysterious swamp-like surroundings from where they first appeared in 2000, stepping forward from where such supreme works as "Follow The Reaper" or "The Jester Race," and even the archaic "Walls Of Jericho" left off without toning down or cutting back.