SHOW REVIEW: Social Distortion
Thursday, September 4, 2003 @ The Showbox (Seattle, WA)
By: Brian Budack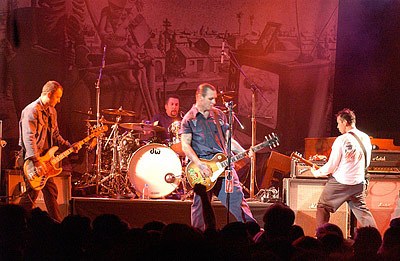 Social Distortion is still going strong.

The band that helped define a generation, an attitude, and a way of life; that helped define and re-define punk music. Social Distortion keeps going and going, like the energizer bunny, but with more venom, more steam, and a whole hell of a lot more to say. Their recent show in Seattle, at the Showbox, with The Hangmen opening for them, proved that Social Distortion is here to stay.

Working on their forthcoming full-length, Social Distortion was out touring and road dogging it - yet again - to test their material on fans before laying it down in the studio in early 2004.

Anyone familiar with Social Distortion knows that, sadly, there have been a lot of losses in the family. Yet, surprisingly, I wasn't disappointed in the show I saw, despite the line-up being anything but the original. However, at the core, front man Mike Ness keeps the band going. A true fighter, and a stunning musician at that, the outspoken, in-your-face, no-punches-pulled attitude of Ness and company come alive on stage - even more so than on record.

Ness, who is a forward thinker, and never one to dwell on the past while forging ahead to the future, proved this fact over and over again - in many ways. One such way was to take current favorites The Hangmen on tour with Social D.

The Hangmen, who take a page from the notorious Supersuckers, rocked part of the crowd, and amassed boos from the another portion. Fanfare or discontent aside, they still rocked the stage and set the perfect tone for what was to come next - Social Distortion.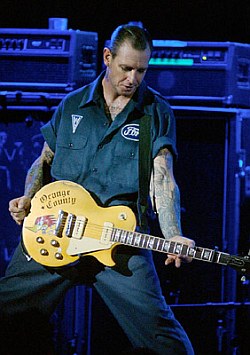 The beautiful thing about Social Distortion is, for a band that has been around for twenty-five years, their crowd is a mixture of people. From old school punk rockers (who you think would be the core audience of Social Distortion's drinking, working class white collar punk), to 12 year old girls who think Good Charlotte is punk. Ness and company amassed a following at this all-ages show that saw more barley legal to drink kids than any other age group, along with middle schoolers, parents with their kids, and, of course, plenty of old schoolers, too.
When the band took the stage, they did so with massive presence.
Not a single person in the house was silent; everyone was yelling and cheering the band on, before following the band into the first number and singing along with every word thereafter.
The highlight of the show for me was when the band burst into the touching, classic punk anthem, "Story of My Life", a song that hits close to home for me.
Each song the band delved into sent the crowd, myself included, into a state of awe. Social Distortion is one of the few bands I know of that can move a crowd from dancing, to tears, to a free-for-all mosh pit in fifteen minutes flat.
One thing that excited me going into this show was the addition of Johnny Two Bags (ex. U.S. Bombs). What an incredible choice, and a great replacement for the deceased Dennis Danell. Johnny Two Bags didn't disappoint.
I remember an old Vandals song about Johnny Two Bags (the aptly titled "Johnny Two Bags") in which "all Johnny wants to do is play the blues". Well, Johnny got to play the blues as he infused it into the street smart, mayhem-filled, political- and socially-charged songs of Social Distortion.
Social Distortion is an institution. They're a milestone for the music world: true, hard working musicians that pit chords against heart, stamina against literate lyrics, as they weave the tales of the every day hard-luck tale that everyone can relate with.