INTERVIEW: Pete Miser
From Dido to Underground Hip-Hop (Ho-Made Media)
By: Alex Steininger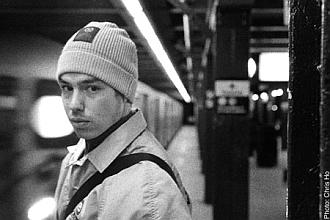 Portland, Oregon hip-hop is now on the industry's radar with the recent success of Lifesavs' Spirit In Stone (Quannum). However, before Lifesavas were creating a lot of buzz for Portland's hip-hop, one man, Pete Miser, and his crew, the Five Fingers of Funk, were generating tons of accolades and props for their independently released sophomore record, About Time, put out through Miser's own Ho-Made Media.

Following the release of About Time, however, Miser called it quits and moved to the other coast, preferring to call New York home.

"One of the reasons I left Portland was because I thought I was getting attention for art that didn't deserve attention," says a candid Pete Miser. "I thought I was getting empty props for shit that I think didn't need props. I mean, getting propositioned from a 17-year-old groupie when I was 28, that was really weird. I don't think any of that buzz is real anymore, not like I did back then. I mean, touring with Dido, I've seen what real acclaim is like."

After living in New York for awhile, while DJing a party that was attended by members of Dido's backing band, Miser unexpectedly found himself as the DJ in Dido's band, touring the world in support of her multi-platinum selling album, No Angel (Arista).

"Seeing the differences between touring with nine guys and touring with an Artista Records artist -- Dido -- it's a totally different thing," Miser says of his independent verses major-label supported touring experiences. "Five Fingers came to a town and we'd play a good show and then we were done. Dido comes to town and does two radio interviews, an in-store, and we fly first class to places like Japan and Australia. It's all there to build up and support the show. It's really different."

Miser says the differences helped him rethink his ideas on independently touring.

"I think doing it all D.I.Y. is just too insufficient. Now that I've seen the other side I don't think I could do the indie thing without a label. Without a label I don't think I'll be doing much touring," says an honest, realistic Miser, broken of any delusions of granger.

Following his gig with Dido, Miser returned home to continue DJing, recording material, and living his life.

After looking at all the material he had recorded since moving to New York, Miser realized he had an album in there.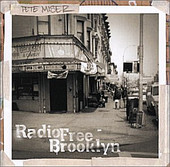 The result was Radio Free Brooklyn, his second solo album, following up 1996's What It Be, both of which were released on his Ho-Made Media label.
"I try to write about what's going on with my life and I'm very politically active, so politics make it into my songs," comments Miser on the politically-heavy Radio Free Brooklyn, which includes a track of the same name, a song that details the aftermath of a nuclear bomb being dropped on New York, and finding a radio broadcasting to the survivors, or survivor as may be the case.
"[I wrote the song] 'Might Be' three days after 9/11. While I was writing that song, the title came to mind. It was weird," recalls Miser. "I had this mental image of a bomb going off in the subway and finding a radio and broadcasting to a survivor saying, 'you're listening to radio free Brooklyn'. So I went and wrote the song. But, I wrote the song before Afghanistan and Iraq."
"I was in Brooklyn at my girl's house," Miser says, commenting on where he was when he heard about the 9/11 attacks. "I had just gotten back from London, where I was on tour with Dido. I turned on the T.V. and couldn't believe what I was hearing."
The subject of 9/11 and its implications, as well as war in general, play a big role in the lyrical content of Radio Free Brooklyn, however themes of racism ("Ho-Made", a song about Miser's Asian heritage) and greed ("Got That") also line the record.
Whereas What It Be, Miser's first record, was more cryptic and less political, born out of the street life and gangsta mentality Miser was associating himself with, Radio Free Brooklyn takes a sharp 180, standing tall and proud, and not afraid to speak its mind.
"On the new record, I feel I got better at talking about politics because I've learned to be funny and talk about it," Miser comments. "I think I was too preachy on the first one. I'm more articulate with what I'm saying on the new one."
The record has been doing fairly well, considering Miser has yet t tour behind the record. With two-thousand units moved, Miser is content, but not completely happy with the situation. He sees the record as one that should be moving in the twenty-to-fifty thousand range, but realizes it takes marketing dollars and big(ger) label support to move that many units, all of which he hasn't got.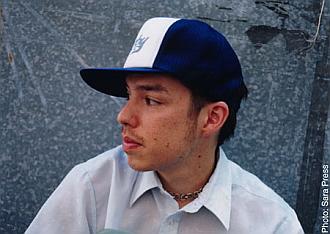 For Miser, though, selling more records isn't his big concern. His biggest concern is putting his life on tape and portraying himself through his music.
"It's about what you want as the end results," he tells me. "Selling records-- my stuff may be too political for that. But if I just want it to portray my life, I think Radio Free Brooklyn does that It's my hope that my music has value since my life has value."
The big question on my mind is whether or not Miser ever returns to play home for something other than the holidays and family reunions, whether he plans to perform in front of a Portland audience again.
Miser quickly tells me he hopes to soon, and that the band he has now is quite good, and ready for the road.
"I'll be surprised if we don't make it out to Portland for this record".
Local hip-hop kid moves to big city, gets a good break, records critically praised new record, and comes home to showcase for the fans that helped him develop his chops. Let's hope so.