INTERVIEW: The Jealous Sound
Ex. Knapsack Frontman's New Project Releases Debut Full-Length (Better Looking Records)
By: Alex Steininger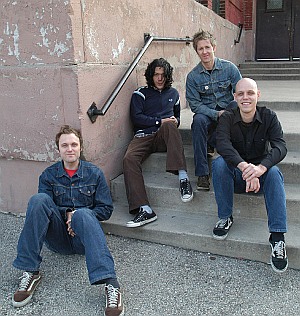 Most everything of substance is born of adversity. One can easily think of a number of improbable stories that are nonetheless behind some timeless records. "Kill Them With Kindness" may prove to be such an album. Los Angeles' The Jealous Sound have doggedly pursued a vision that is fully realized on their debut LP.

As a record whose future was in doubt for some time, it's not surprising that fans consider this a hotly anticipated release. Singer/guitarist Blair Shehan (Knapsack), guitarist Pedro Benito (Sunday's Best), bassist John McGinnis (Neither Trumpets Nor Drums) and new drummer Adam Wade (Jawbox, Shudder To Think) consider "Kill Them With Kindness" to be worth the wait.

A hard-working, hard-touring act with a loyal following, The Jealous Sound have been frustrated at waiting three years to follow-up to their impressive debut EP, released in the summer of 2000 on Better Looking Records. Unfortunately, bad luck is not uncommon in the music industry but rising above it is. The short story is that, in 2001, virtually upon signing with a major label, the label lost its distribution deal and the subsequent label that inherited the band didn't share their vision. The Jealous Sound found themselves shuffled onto a label that would neither let them go nor put out a record. This is just the sort of thing that would spell the end for most bands. However, perseverance pays if you can keep faith.

Eighteen months after signing the original contract, The Jealous Sound was released from limbo and immediately teamed back up with Better Looking Records. The band took the musical gems they had been mining during the interim and went into the studio with producer Tim O'Heir (Sebadoh, Morphine, Superdrag, All-American Rejects).

"Tim's done some of my favorite albums," says Benito. "He wanted to work with us -I never would have imagined that he would consider it." Bringing the producer from Brooklyn to Los Angeles for two months of recording proved to be critical to making the record The Jealous Sound wanted to make.

McGinnis says, "Tim helped us make a record with musical and emotional depth but at the same time with the energy that makes you throw your fist in the air and sing the chorus."

"He's on our wavelength, for sure," adds Shehan. "Tim's an authentic person. He's the real deal. And that's exactly what we were looking for. He knows how to get things to sound great but doesn't overproduce to get that typical, polished sound. For an example of what I mean, look no further than [Superdrag's] Regretfully Yours. That was the one that really swayed me, because it was a big crunchy pop record."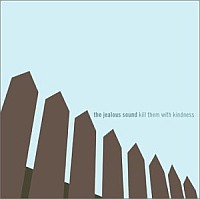 "Kill Them With Kindness" is a showcase of the band's accomplished talents and varied influences. Shehan delivers the lyrics in a whispered roar that draws you in to the propulsive rhythms and timeless melodies. The record takes the listener on an emotional journey, opening with the powerful "Hope For Us", which marries depth to rapid-fire energy. During recording, the drumming duties were chiefly taken up by drummer/busy friend Tony Palermo (Pulley) prior to Wade's signing up. The nuances of the record sweep across clever electronic flourishes, heart-rending ballads, compelling rock and deft wordplay. Included is a reworked version of "Anxious Arms", the closer from their earlier EP.
"The EP was done as demos, so I wasn't really pushing, singing-wise, at the time," explains Shehan "I'd just finished doing Knapsack and I was tired of screaming my head off, so I decided to purposely lay back while I was recording. But eventually everything started kicking live, and that was the one we liked and wanted to do again."
Playing live remains the band's first love and a potent calling card, most recently evidenced by successful tours with At The Drive-In, The Fire Theft, The Get Up Kids, Death Cab For Cutie as well as two exceptional shows at this year's SXSW. The Jealous Sound have always wooed the uninitiated the old-fashioned way, and will continue to do so.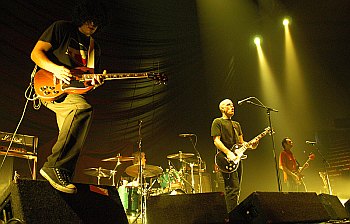 "I think the most happy and successful bands are the ones that earn it," says Shehan, who considers the disruptive episode on a major label nonetheless a good learning experience. "When you are out there sweating it out, playing shows and meeting kids, at the end of the day you realize that what you are doing is earning your place one fan at a time. Not much else really matters."
Listed in Alternative Press as one of the "Bands to Watch in 2003", and hailed as "the rock you must have" by Spin Magazine, The Jealous Sound are poised to fulfill the lofty expectations. Perhaps "Anxious Arms" also sums up some of the back story: You tear it apart and you count up the cost / And your head swims it all gets lost / And you say, there is no hurry.
No hurry, then, just a bit of a wait.