Velvet Acid Christ
Hex Angel: Utopia / Dystopia (Metropolis Records)
By: Vinnie Apicella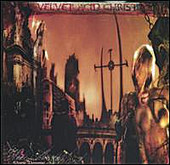 Velvet Acid Christ's fifth album is among their most extreme and involved work. After a three year layoff, VAC brain trust Bryan Erickson has regained the forward momentum that made "them" such a viable force in the electronic underground since the early '90s. The eleven tracks are emotionally bleak and intricately layered in static atmospherics and an endless rush of sharp samples and twisted FX -- "Haunted," at the forefront, perhaps the purist bred EBM track of the album; "Collapsed" is a mellower work low lined by a fluid display of Dark Wave that evolves into a skin-piercing Techno-clash; 1st single "Pretty Toy" opens with a tolling bell like sequence signaling impending doom while the disturbing voiced over effect mimics the power of God in the hands of the unidentified protagonist puppet master. Easily one of the deepest, darkest and brilliant of VAC's cuts; Down the line, "Dead Tomorrow" reaches further in intensity with a fast-paced futuristic following that's equal parts Goth and Godflesh. "Eva," two songs later, is a beautiful soundscape drawn from a sad atmospheric state.

Erickson wrote and composed like a man possessed, consciously lighting a fire under the ass of everything from socio-political issues, mainstream religion, and mental anguish by way of venomous discontent, punishing beats and extensive list of back page negativity. Erickson is the anti-hero underdog pitting truth against technological abuse in an ironic twist that behind his first greatest weapon, his extensive use and dare we suggest "abuse" of modern musicology rears this toxicological reaction of thought twisting proportions. Every conceivable angle is covered dating back to the dawn of Electronic music. "Hex Angel: Utopia -- Dystopia" combines a daring display disheveled dance beats and dark passages, fronted by spoken word samples and tattered narratives. The end result is a chaotic cause and effect underpinning that sets the tone for an impending and unrecoverable storm that's sure to upset the balance of power in this still emerging EBM scene.