Clan of Xymox
Farewell (METROPOLIS (USA) / PANDAIMONIUM (EUROPE))
By: Jett Black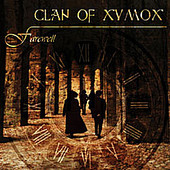 CLAN OF XYMOX delivers the velvet-chocolate vocal tones of Ronny Moorings (vocals, guitar) whose vocals remind me strongly of Johan Edlund (Tiamat and LucyFire), and also of Mojca (Bass & vocals). Musical production and execution on FAREWELL reminds me at times of S.O.M., Project Pitchfork, and The Mission UK. Energy throughout this album shifts from the shallows of reflective grief ("Dark Cloud" and "One More Time") to an apex of EBM momentum in "Courageous". Time and the dark halls of regret are conveyed within the ultra-fantastic cd sleeve artwork provided by Mojca. If anyone has a chance of bringing Dark Gothic Electro into mainstream acceptance, it must be CLAN OF XYMOX! The more electrifying tracks herein carry forth dance-pop sensibilities with dark brooding gothic lyrical concepts, e.g. "the one you love is the one you hurt the most/In My Heart I feel Like a Ghost". Everything we see upon the dance floor, the confidence of the swirly goths, the passion of the dance, the permanence of the beat... FAREWELL delivers all of these elements which must find renewed vigor soon on dance floors worldwide. This could very well be the next best-selling album for CLAN OF XYMOX! Metropolis (releasing this USA version) may have slipped with the track listing order, but they definitely picked a winner with CLAN OF XYMOX! Pandaimonium Records (Europe) is issuing a slightly different version of FAREWELL - click here. The European track listing for FAREWELL appears in the correct song order as compared with the USA version (which confuses tracks 6, 7, and 8).

Pandaimonium Records reports that a limited edition Digi-Pak of the FAREWELL album (which also included a CLAN OF XYMOX sticker) has already sold out, though the standard jewel case (european) version remains available for collection.