Wanda Sykes
Tongue Untied (Comedy Central)
By: Alex Steininger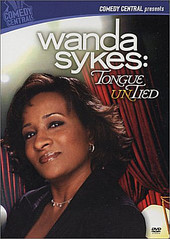 Comedy Central is not only the best channel on cable; it's the best channel. Period. Wanda Sykes, a popular voice on Comedy Central's own Crank Yankers, and star of the Fox show Wanda at Large, as well as HBO's previous hit, Curb Your Enthusiasm, delivers a stitch a minute on her first DVD release, Tongue Untied.

Including her thoughts on sex, politics, religion, and relationships, Sykes' nasal-y noise makes your ears itch before she hits you with the punch line - and makes you laugh so hard you can't control yourself.

Including bonus features such as Sykes' appearance on the Daily Show with Jon Stewart (one of the best shows on Comedy Central), the un-aired footage that didn't make Comedy Central's original broadcast of Tongue Untied, a special program, Comedy Central Presents Wanda Sykes.

Prior to seeing this, she was one of my favorite crank callers on Crank Yankers. After seeing it, she's one of my favorite comedians. I'll give it an A.