Upright Citizens Brigade
The Complete First Season (Comedy Central)
By: Ryan O'Neill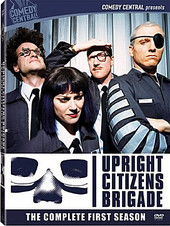 The Upright Citizens Brigade is/was a sketch comedy show that aired on Comedy Central from July of 98 through April, 2000. In all there were 3 seasons comprising 30 unique episodes. This first DVD 2-disc set is the complete Season One.

And I'll be GOD DAMNED if the show wasn't some kind of brilliant.

Do ever so allow me to wax sentimental for a second here and chronicle some of my favorite sketches from this season. Perhaps in doing so, it will help you to remember actually watching the show back when you were getting high all the time, weighed 500 pounds and were washing your dishes in the bathtub.

♦ The Bucket of Truth
♦ Captain Lunatic (that's lou-NAH-tic) vs. Bong Boy
♦ Poo Stick ("Say I'm your momma!")
♦ Titular Line in Star Wars ("Actually, I'm glad it got cut, because a scene like that would completely take you out of the movie")
♦ The _entire_ episode 103, "Saigon Suicide Show", which is all performed as a stage show in front of a big college audience. This episode included such sketches as: Promoting Tolerance ("Share the black people?"), Astronaut Prejudice ("What the hell is a moon cheese baby? / He's talking about how the moon is supposedly made of cheese / Regardless, how would you end up with a baby made of it?"), Jew Apology ("Half-Jew is not a verb!") (BTW, look out for The Daily Show correspondent Rob Corddry sitting in the audience in this sketch), Hong Kong Danger Duo ("I turn your brain into spicy crazy chicken TO GO!") ("Duo means two, as in two people, there are three of you / That's what makes us so dangerous!!")

(God do I love semantic humor... ANYWAY.)

♦ Ass Pennies (you, hopefully, already know this one)
♦ Steve Youngblood's "Kung Fu" Academy ("Why did you use quotes like that?")
♦ Ugly Club ("Oh god, I had sex with it")
♦ UnCommon Backrub ("Get my mother out of your pants!")
♦ Albert Einstein's Audio Journal ("I've got to stop masturbating!")
♦ Fortune Cookies "In Bed" ("'Everyone is better than you' - what the hell kind of fortune is that?")
♦ (Who Drank the) Bug Juice ("When I run by I want you to punch me in the stomach. Jesus did this! / (No he didn't!)")
♦ Cyborg Dating Service ("Or maybe go stare at an eclipse WHILE SCREAMING AT IT! And that man was Eli Whitney")
♦ Mid-Atlantic Airline Pilot Training "Last Moments" Techniques (several fully-bleeped swears, aaaaand Satan!).


KAY.

So.

DVD reviews often talk about the audio and video quality, but, shit, these shows are only like, what..? six years old? The quality is negligible. Way better than VHS or anything you can download off kazaa.

Five episodes total have a commentary track ("Bucket of Truth", "Power Marketing", "Time Machine", "Cyborgs" and "The Little Donny Foundation"), six if you count the unaired Pilot Episode. Two of these commentaries ("Time Machine" and the Pilot) were actually recorded in front of a live audience at the UCB Theater, followed by a Q & A session, which is very cool.

The second disc contains the last 4 eps plus all the bonus stuff, including:
♦ The unaired UCB Pilot Episode, which is just basically a lower-budget live-studio-audience version of some of their sketches (most of which ended up in episodes 105 "Children's Revolution" and 106 "The Story of the Toad"). It's kinda fun to watch the sketches performed in front of an audience, especially the Steve Youngblood sketch, but I'd still consider the filmed versions to be the final versions. And I'm kinda glad they didn't decided against the studio audience thing in the end.
♦ Deleted Scene: "Highland Epoxy." (meh.. is that the only deleted scene you guys could find?)
♦ Original Trailers. (or, adventures in editing a bunch of sketch clips into tv commercial-sized vignettes, or*2: a quick way to get another bulleted item on the DVD jacket)

And then we have the much ballyhooed alternate audio commentary for "Little Donny Foundation" by Little Donny and his parents.

Personally, I never really got into the whole Little Donny thing. Seemed to be just a 22-minute long, fairly boring dick joke with no real payoff (and, in fact, gets kinda sad at the end). But, I suppose the fact that they were able to successfully air a half-hour dick joke on national television in the guise of a telethon deserves some credit. Kudos.

Also included are original live performed versions of two UCB sketches. One of them, "Andre the Giant," I don't recall seeing in any episode from any season (could be wrong on this though, it's been a while). Nonetheless, it's purty funny.

The highlight of the disc for me, aside from having the entire first season in better-than-vhs quality, is the original live version of "Little Donny." Watching this gave me a little more appreciation for this sketch as a whole. Plus seeing the giant penis unpixelated is pretty snazzy.

Matt Besser, who plays Little Donnie, in the middle of the sketch, steps out of character and into the spotlight where he regales us with the toils in bringing to life this "sophomoric big dick joke."

"The big joke isn't Little Donny," he says, "The big joke is our society."

Amen Little Donny, and God bless you.


P.S. this was the first DVD review I ever wrote, to that which I understand it's most likely long-winded and probably boring to even UCB fans, but, given that, I would just like to say, with all that I am, please, eat me.