Grandpaboy
Dead Man Shake (Anti / Fat Possum)
By: Alex Steininger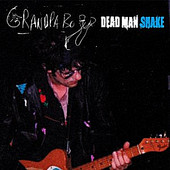 Embracing his blues side, ex. Replacements front man Paul Westerberg, using the moniker Grandpaboy, put his heart and soul into the gritty, teeth-grinding, dirty, and raw white-blues rock album, Dead Man Shake.

Straight out of your stereotypical hole-in-the-wall blues bar with your average blues band. Paul Westerberg retains that blue collar, carefree, careless sound, putting it into his blues record, the first for Grandpaboy (the moniker he established to do whatever he wanted without the pretense of it being a Paul Westerberg album).

Smoky, dingy, and reeking of middle-aged men grasping their beers as if it were the last thing in life they still have control over, while a man and his band hammer away their blues favorites, Dead Man Shake nails the vibe and feel Westerberg was going for.

The beauty of the album isn't necessarily the music. It is run-of-the-mill and generic, although one of the finer blues-rock records released in the last decade.

The beauty is in the fact that Paul Westerberg, long seeming uninspired and going through the motions, is inspired again. He seems happy to be cranking out these songs. He seems happy to be playing the blues. And seems excited about the possibilities as he goes from track to track, chord to chord, cranking out the music as if he were one of the originators of the sound.

Dead Man Shake is an exhilarating, must-have for Westerberg fans because, much like previous Grandpaboy releases, Westerberg seems to let his hair down, not give a fuck, and just crank out whatever he feels like doing. And, that has always been the magic spark that made, and makes, his music so integral, so revolutionary, and so influential.

Let's thank Grandpaboy for showing us how blues-rock should, could, and will be played when Westerberg so feels inclined. I'll give it a B.