Ilya
They Died For Beauty (Virgin Records)
By: Cam Lindsay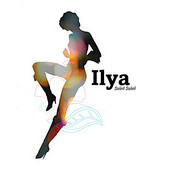 Not to be confused with Ilya from San Diego, Ilya from Bristol, England is a trio analogous to John Barry soundtracks, David Axelrod and smoky jazz clubs. What's most surprising about this fresh outfit is the fact that they sound every bit as good as the comparisons. Mixing in funk and soul, to form something way beyond the lazy tag of trip hop, Ilya stir up a sensation that is warm, sensual and most of all, seductive.

The smooth "Soleil Soleil" is the aural equivalent of silk, gliding in a haze that reaches a brilliant climax when the banjo rolls in, while "Heavenly" has the dangerous caress that makes James Bond soundtracks so alluring. Singer Jo Swan's deep, breathy vocal style is magic like Nina Simone with enough sex appeal to melt a stick of butter from miles away. Coming from the trip hop capital of the world, they may find themselves unfairly pigeonholed, but Ilya have an essence beyond what was going on nine years ago in their home town. They Died For Beauty is filled with enough passion, love and grace to get anyone in the mood...for just about anything.