Sponge
For All The Drugs In the World (Idol Records)
By: Alex Steininger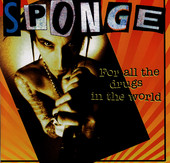 Their debut went platinum. Rotting Pinana, every song on that album was a hit. The follow-up, Wax Ecstatic garnered a few hits - "Have You Seen Mary?" and the title - track. But, by then, the band's MTV Buzz power was fading. Their third full-length, New Pop Sunday, though a strong collection of the power-rock that made them radio darlings, failed to make any impact. And, as they say, "out of sight, out of mind".

To me if felt like Sponge fell off the face of the earth. However, four years later, and after many Yahoo and Google searches to see what this band was up to, they resurface with For All The Drugs In The World, their indie label debut.

But, what do we get? A tired band that has given up and is going through the motions? Hardly! For All The Drugs In The World is quite possibly the band's best record to date. Twelve tracks of impacting rock 'n' roll, led by front man Vinnie Dombrowski's husky, snarl-y voice, the album packs the punch of any of their albums, ups the ante lyrically, and musically the band never sounded tighter.

Too bad radio isn't what it was. If it were, Sponge would be back on the charts. However, that doesn't mean fans of music can't revel in the band's heavy-hitting, loud, abrasive, and emotionally powerful brand of rock 'n' roll, done as only Sponge can do it on For All The Drugs In The World. I'll give it a B.