INTERVIEW: Goldcard
Former Pond Lead Singer's Goldcard Ready To Spend (Off Records)
By: Alex Steininger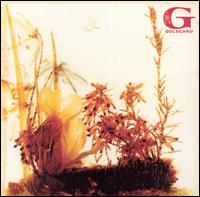 Flash back to 1993. The Pacific Northwest seemed to be the breeding ground for the new generation of post-punk offerings. Seattle had already exploded onto the commercial radar, and its flagship label, Sub Pop, had taken notice of Seattle's neighbors down south, Portland, Oregon.

One of the Portland bands to sign to Sub Pop was Pond, fronted in part by guitarist Charlie Campbell. Releasing two records on Sub Pop -- 1993's self-titled debut and 1995's The Practice of Joy Before Death- and eventually signing to and releasing a record on the Sony-owned Work Group (1997's Rock Collection), Pond amassed a large underground following, but was never able to break out from underneath the underground.

Growing weary of the industry, and tried of the dog and pony show, Pond disbanded when Campbell told longtime friends and band mates Chris Brady (bass) and Dave Treibwasser (drums) that he only wanted to record; he didn't want to practice, play live, and especially didn't want to tour.

However, in between being dropped from Sony and disbanding, Campbell and Brady had each written a handful of songs that were supposed to act as demos for the next Pond record. With Pond no longer, Brady took his songs to his new project, Audio Learning Center (Vagrant Records), and Campbell let his sit in his basement.

"Being in a band and touring promises to be liberating, but in fact it's just the opposite," Campbell says of his Pond experiences. "You're left with very few meaningful choices. Where you play, what you play, how you play it, even where you eat and sleep are decided by committee, or worse, often by someone who you've never met. Despite being in a band with people that I liked, touring was always awful. And the business of being in a band was always awful."

With news of Campbell's demos lying around doing nothing, several friends offered to help out, including former band mate Chris Brady and indie-pop darlings Quasi. It went as far as Campbell assembling a band, not including himself, that would perform his songs live.

Campbell was going to teach everyone how to play his songs, including teaching the guitar players "the gimmick", the orchestration sound that was comprised of nothing more than a slide, a guitar, and an amp. The so-called "gimmick" filled Pond's final masterpiece, Rock Collection, and became the focal point of what would become Charlie Campbell's final release, the Goldcard record.

However, frustrated that he could no longer remember how to play "the gimmick", and uninterested in taking the time to teach it to others so they could play it live, the idea for the band that would perform Campbell's songs was axed -- after only one rehearsal.

"That's a good question, and one that I haven't asked myself," Campbell says, when asked if he ever regrets not going forward with the band idea and trying a bit harder. "Maybe I should have tried harder. But I just couldn't."

Around this time, Campbell also gave up on recording and writing, things that once invigorated and excited him, had now become a chore, work, and something he was unwilling to take part in.

"With the other stuff, like writing and recording, I don't know. It's hard to say why things that were formerly enjoyable stop being enjoyable," comments Campbell, unsure of why, but sure of his disinterest in it all now.

However, after several people suggested he should just put out his demos as is, friend and label owner Chris Slusarenko, of Off Records, and former front man of Sub Pop act Sprinkler (a band that helped Pond land a deal with Sub Pop), approached Campbell, telling him he was in a position to put the record out and wasn't worried about Campbell never playing live or doing all the things most record companies require their acts to do.

This was what made Campbell finally come around and agree to release his record, using the moniker Goldcard.

Once the record had come back from the manufacturer, Campbell came up with the idea, out of love and respect for his friend, and a genuine wish that his friend not lose money, to promote the record via a listening party at local record store Jackpot Records (owned by Slusarenko's younger brother, Isaac).

The "gimmick" this time around was that Campbell would sit in a wooden box, out of sight from fans and customers, from noon to 6pm while the record played non-stop on the store's PA system. Campbell would, of course, interact with the fans and customers -- through a small slot in the box. CDs would be handed to him, he would sign them. Pizza shoved through the slot so he could eat. And people would stand close to the slot to ask Campbell questions, to which he would answer them to the best of his ability.

"I didn't want [Off Records] to lose money so I agreed to the in-store, with the condition that I didn't have to talk to anyone," recalls Campbell. "About the box, I don't know. Under normal circumstances I'm normal. But an in-store is a very strange way to meet people. I felt I needed a little protection. Or anonymity."

Following the success of the Jackpot in-store in Portland, Oregon, a second one was booked at Sonic Boom Records in Seattle, Washington, which, like Jackpot, is a member of the Alliance of Independent Music Stores (A.I.M.S.) Coalition.

"I don't ever want to play a show again," continues Campbell, discussing the lack of a proper CD release show. "There are people that just need to be up in front of people. So I think it's best left to them. Most truly great performers are driven to be there. They are often egotistical, self-absorbed narcissists - but they put on the best rock and roll shows."

Prior to the album's release, Slusarenko and Campbell told friends of the impending release of the Goldcard album. Several friends offered to help out, including Quasi and Grandaddy, who backed Campbell on the few remaining songs he had yet to record.

Following the record's completion, former Sprinkler drummer and Slusarenko's other brother, Nate and Campbell got together and designed a full color, twelve page booklet, with extensive liner notes written by Campbell himself, detailing the birth, and oftentimes meanings or mindset behind each song.

The record now stands as Charlie Campbell's last stand in music, his final hooray. His last gift to the musical world.

"I heard it about a fifty times when I was sitting in the box at the record store," recalls Campbell, when asked if he is proud of the record. "I really hadn't thought that part through very well and I started to get really bummed that I was going to have to listen to myself for hours and hours. But after a while--listening to it 10 times or so--I started liking it. So, I don't know. Maybe it's fine."

Bringing up the fact that it will be, by choice, his last ever offering to the public, I ask him if he is comfortable with this. He quickly replies, "Yes!".

"It's often hard to know when some epoch of your life has come to an end," he elaborates for me. "So much of the time things just blend together. So I appreciate it when life provides a clear cut opportunity to be nostalgic. There are really just a few of them: when you graduate from high school, or break up with your girlfriend, or move out of a house. I sometimes like the ends of things better than I like the beginnings of things."

Trying to change his mind otherwise, I ask if the well-received Goldcard record makes him want to get back into music. He tells me, "I don't think so. I really like not worrying about it anymore."

Campbell now works for Johnson and Wolverton, one of the Northwest's largest advertising agencies. He creates music for them, so, in a way, as much as he tries to escape it, music will always be a part of Campbell's life, at least a small part of his life.

"It took me awhile to warm to the idea of making music as a day job," admits Campbell. "But they work at a really high level and they foster, and expect, good creative work, so any artistic impulses that I have can find a place in the work that I do for them."

Campbell still toys around with "the gimmick", playing around with it on occasion at the office. Though, he swears it doesn't sound the same anymore.

"It really used to make me cry it was so beautiful, but it certainly doesn't have that effect on me now," states Campbell. Happy that the record saw the light of day and that people got the chance to hear it, and pleased with the fact that his goal was met, Off Records didn't lose money on the project, Campbell can comfortably tuck this portion of his life in the scrap books and look back on it when the mood strikes him.

When asked if there is a moral to Goldcard, Campbell thinks about it and replies:

"I don't think there is a moral strictly--although I like morals, at least right now I'm entertained by the idea that Goldcard had a moral--but actually no, I think it was all utterly pointless. If there is any value to it, it is that the story is so common, and so pointless."