All-Girl Summer Fun Band
2 (K Records)
By: Ronald Vaughan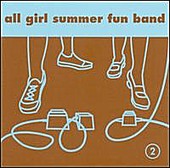 Imagine,if you will, an album with no bad tracks. This is one of the few!

AGSFB--from Portland, Oregon, is: Kim Baxter (vocals/guitar/keyboards) ;Jen Sbragia [ex-Softies] (vocals/guitar); Kathy Foster (drums/bass/vocals); and Ari Douangpanya (bass/drums/vocals) ;it picks up where Sixties "girl groups" left off--adding distorted guitars and a pop-punk mentality to already-bouncy vocal harmonies filled with emotion and melody!

This outfit, ironically, was formed, out of boredom, in the Summer of 1998. Songs include:

Dear Mr. and Mrs. Troublemaker--song complaining about a boyfriend's parents;

Down South--all about a weekend vacation trip

Ticking Time Bomb-- telling about mistrust of an unfaithful date;

Jason Lee- a song of admiration about that actor;

Grizzly Bear--singer fantasizing about being that animal;

Inarticulation--clever tune about being "tongue-tied";

Daydreaming---odd song about the title, with shifting background melodies;

Video-Game Heart---all about the romantic dilemma of the "waiting game";

Million Things---telling about the yearning/desire for someone;

Parallel Park--- story about the singer's car troubles;

The Longer I Wait--- song about trying to meet somebody;

Samantha Secret Agent---tune about the singer's romantic competition;

Becky--- song about borrowing a boyfriend from a girlfriend---as if that girlfriend "wasn't good enough" for the guy!;

Tour Heart Throb---story of groupie lust.

Word's can't really do justice to this recording. You must hear it for yourself! When a group does songs that "stick in one's head" that has to be be good. This band lives up to its name!