All-Time Quarterback
All-Time Quarterback (Barsuk Records)
By: Alex Steininger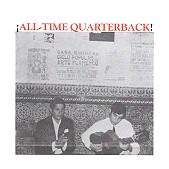 Ben Gibbard (of Death Cab For Cutie) recorded a handful of songs on various keyboards, an out of tune guitar, an old 4-track recorder and a Walkman, releasing them under the one-time moniker All-Time Quarterback in the spring of 1999. The All-Time Quarterback CD-EP and The Envelope Sessions cassette were the product of that spring.

With Death Cab For Cutie's tremendous success, fans have been searching for the cassette and the EP, leaving many to wonder why they weren't re-issued on one CD. Barsuk Records has answered the cries. The two EPs and a previously unreleased track ("Dinner At Eight in the Suburbs") are now available on one CD.

For the first time the lo-fi pop of "Plans Get Complex", bouncing with an old toy piano chiming in the background and the steady thump of an easy drum beat, sits next to the whispery acoustic, walkman-recorded "Cleveland", the epitome of home recorded, lo-fi singer-songwriter indie pop.

A delightful cover of the Magnetic Fields' "Why I Cry" is brought to life by Gibbard's exploration of more toy pianos and simplistic percussion, which can originally be found on the CD-EP. And then there is the previously unreleased "Dinner At Eight in the Suburbs", a short two-minute indie pop ditty that wouldn't have been out of place on Death Cab's first record.

Though unavoidably Death Cab-ish, due to Death Cab's unique sound heavily revolving around Gibbard's voice, ATQ separates itself from DCFC with a lot more lo-fi prowess that basks in simplicity, as well as Gibbard's fun with toy keyboards and an old guitar. I'll give it a B.