Chica Lishis Interviews the Buzzcocks! (well.. sort of)
By: ChicaLishis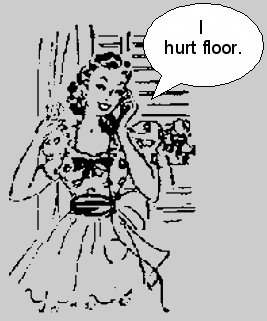 Hello Chicklets and Chicklesses! This month I went professional! No, not that kind of professional, although I once took a mocha latte in trade for, you know, services. I mean professional journalist type of thing. I got a recorder, so I could look really cool and important, and get every thought and feeling of a show saved for all posterity at the time it is actually happening. Supah, huh? Truthfully, it was just alright. A recorder has a way of slipping out of your grasp at the most inopportune moments, like when you're trying to hold up your skirt, take a drink of your beer, fix your lipstick, and pee in a toilet without actually sitting down all at the same time. But, it miraculously isn't affected too badly by an accidental dunk in the tank. Anyway, the fruits of my tape recorded labor lie below. Do enjoy! (Or don't, I'm too fabulous to care -- much.)

Ladies and Gentlemen. I am coming to you live from outside the entry of Berbati's Pan in Portland, OR. The air we breathe is palpable with the excitement of concert goers waiting to get in and see the legendary Buzzcocks. The line is... crap, the line is really long. My date and I, Quiet Wyatt, are approaching the front of the line. Once I flash my journalistic credentials we shall be escorted quickly in... Hi. Chica Lishis, from In Music We Trust. I'm on the list... Well, I'm supposed to be on the list... Did you check all those lists?... I'm not there?... Uh... I'm a writer, In Music We Trust... Chica Lishis... perhaps you've heard of me... No? Uh... (Tape recorder off.)

Ladies and Gentlemen. I am coming to you live from the end of a long line of people waiting to see the legendary Buzzcocks. The air is palpable with excitement... Alex! HEY ALEX! It's me, Chica! Dude, I'm (petulant whine) suppose to be on the list... Yeah. Go talk to him... Wait, we'll come with you. (Tape recorder off.)

Ladies and Gentlemen. I am inside the club, Berbati's Pan, that is hosting the legendary Buzzcocks. The excitement is palapatingly... Yeah, I'll have a margarita. Thanks... Where was I? It's packed to the rafters... Do they even have rafters?... Nope. It's packed with wall to wall people, anxious to get a glimpse of the godfathers of punk-pop. It looks like the first band is already flailing away on stage... Excuse me, who's on right now?... Who?... Oh. Did the Exploding Hearts already play?... Oh. Crud. Okay. Thanks.

My margarita has arrived... Mmmmm. Yummy goodness!... Quiet Wyatt and I are moving around the crowd to the far parameter of the stage to get a good look at Billy Talent... (Walking. Walking. Bumping. Pushing. Shoving. Drink-protecting karate action. More walking. And -- standing.)

Billy Talent has... has really weird eyebrows... Huh. That's something you don't see everyday... Are they shaved, or... Wait... A super tall guy just pushed in front of me... Wonder Powers, activate! Turn tall guy into... Hey, it's my date... Move OVER Quiet Wyatt. Damn, I'm only, like 2 feet shorter than you. Don't do that... What... SHUT UP!... Okay, I can see again...

There's a lot of jumping and running around and shouting on stage. Billy Talent looks pretty into what they're doing... What?... Oh... Quiet Wyatt thinks they're trying too hard... More drinks needed... We need more drinks, not them. I don't know what they need. I could ask them but they seem to be rather busy at this particular moment. They're on their own. We are now moving to the back bar... (Walking. Bumping. Shoving. Shimmy around big bald guy. And -- standing. In bar line. Forever. Tape recorder off.)

Ladies and Gentlemen. Billy Talent has left the building. Or, at least vacated the stage. The legendary Buzzcocks are up next. Quiet Wyatt and I have moved up front again where we wait with... Shit! There goes my drink down some chicks back... Damn... Back to the bar... Sidekick Krissy! You're back in town!... You've been back? Why didn't you call me?... You have called me?... Did I answer?... What did I say?... Ha! Ha! That's just like me... So clever... Mind if I use that?... Oh right, I'm the one who said it... Okay, well, call me! (Tape recorder off.)

Ladies and Gentlemen. I'm back up front, this time with trusty beer that never seems to attempt escape from the established boundaries of the almighty plastic cup. I've lost Quiet Wyatt in this sea of bodies. Never mind... Buzzcocks are taking the stage... (Mumble. Mumble. Undecipherable over screams of elation. My screams seem to be the most shrill. Hey, if I'm screaming, who was mumbling into the recorder? Tape recorder off.)

LADIES AND GENTLEMEN. THE BUZZCOCKS HAVE BEEN BLOWING OUR MINDS FOR ABOUT 45 MINUTES NOW AND SHOW NO SIGNS OF TIRING. THIS IS SO FUCKING COOL, I FEEL SO LUCKY THAT I'M GETTING TO BE A PART OF THIS! A FEW NEW SONGS HAVE BEEN MIXED INTO A SET CONSISTING PRIMARILY OF HITS. THE NEW STUFF ROCKS. THE STANDARDS ROCK. THE BOYS OF THE BUZZCOCKS, YEAH OLDER AND GRAYER, ARE KICKING MY ASS ALL OVER THE PLACE. EVERY TIME A SONG STARTS UP, THE CROWD ERUPTS AND A SING-A-LONG MAYHEM ENSUES, WITH KIDS CRASHING INTO EACH OTHER. THE ONLY THING KEEPING US ON OUR FEET IS THE CRUSH OF BODIES FROM BEHIND... Hey -- Wait a minute -- Something's rubbing up against my bum. Is that someone dancing?... It don't feel like dancing... It feels like a hand... Holy Shit! That's where the sun only shines on when I'm in Greece... MOTHER FUCKER! GET YOUR HAND OUT OF MY CROTCH! (A sharp elbow to the chest. Assailant falls backward. Tape recorder off in anticipation of reprisal move.)

Ladies and Gentlemen. We are now frantically stamping and clapping and whistling and screaming to bring the Buzzcocks back to the stage for an encore. It seems like they've been playing for hours... I mean that in a good way... So I don't know how they will find the energy to come back up here and shake our shit some more. I'm hoping for "Paradise" during the encore. It's my favorite song, but even if they don't play it, this show is in my top 3 shows of all time. And that's not just the drink talking... Watch it, babe!... I've located Quiet Wyatt... He is uncharacteristically noisy up at the very front... I shall have to think of another moniker for my tall, boisterous friend... (Buzzcocks are back on stage. Tape recorder off.)

Ladies and Gentlemen. The legendary Buzzcocks have left the club. Now, I was not a witness to the early days of punk in Manchester, England for two reasons. #1: I was a tyke, twirling around the living room in my Underroos to the strains of disco, and #2: I was stuck in the burbs of our little P-town, affectionately titled Felony Flats; worlds removed from the music and social revolution taking place across the oceans. But I'll swear that the show I saw tonight would have rivaled any Buzzcocks show that came before it. Time flies when you are kicking ass; the time has flown for the Buzzcocks, but they are still kicking ass. We are filing out of the club now, two battered, but happy souls amid a long line of sweat-soaked, satiated... OH MAN! There's the tour bus! I'm gonna get over there and... (Tape recorder dropped in excitement. Later retrieved by Quiet Wyatt. What a guy.)

What follows is a blurred recollection of an interview with Steve Diggle on the back of the tour bus. I was, uh... shit faced and star struck. He was attempting to relax, and probably wondering why I didn't have a pen, a piece of paper, a decent question, or, really, any semblance of a clue as to what I was doing. There was a basketball game playing on the TV.

ME: Wow! You guys were jush great. That was a great show. Really, great.

HIM: Thanks.

ME: I donwanna take up too much of your time. I jusgotta coupla questions for you. (At this point, I'm desperately trying to think up a question other than "Can I buy you a drink, sailor?" accompanied by my signature sly smile and drunken wink.)

HIM: Okay.

ME: How do'ya like playing Portland? (What the fuck! How does he like playing Portland? Shit, how do I like being the biggest tard in the land right now?)

HIM: (Okay, I'll have to paraphrase, 'cause for the life of me, I can't remember his actual words, but I did get the gist of it.) We like being here. We've been here before and it's always a good time.

ME: Cool. (Or something equally stupid.) How's it feel to be back on the road?

HIM: (Again with the paraphrasing.) We've had really good receptions everywhere. We started out in Texas, which was great...

Honestly, I don't know what he said after that. I was desperately wishing I would have brought a CD to be signed, I was trying to ignore the look in his eyes that was saying, "Gee girlie, I'd like to be left alone now." I was madly racking my brains for a question that might actually be half-way decent so I could stay and talk to him some more, but to no avail. I shook his hand, gushed some more about how "great" they were (if only I could have pulled out at least one superlative that adequately expressed my feelings), and then got the hell out of there. On my way off the bus, I repeated my command performance of "Gee whiz"-ery for the rest of the band and exited in exaltation; I may have been a total dolt, but I still got to talk to the band!

I found Quiet Wyatt and we hooked up with some other friends and headed off into the night. Another smoky bar, another round of drinks, another show around the corner, but nothing that came close to the thrill of the Buzzcocks.

Auf Wiedersehen,

Ever fallen in love with someone you shouldn't've fallen in love with? Who hasn't! But if you must whine about it you can reach me here at [email protected].