Yo La Tengo
Summer Sun (Matador Records)
By: Alex Steininger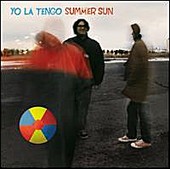 Following up 2000's And Then Nothing Turned Itself Inside Out, Yo La Tengo continue with their ever-changing sound, this time with Summer Sun, an aptly title album that recalls the relaxation of summer and the warmth of the sun.

Not a single distorted guitar is to be found on this record. The band goes for the tranquil and peaceful melodies instead, as demonstrated on the upbeat, jangle-y "Season of the Shark", with its lighter than air guitars and the half-spoken, relaxed delivery of front man Ira Kaplan. Or "How to Make a Baby Elephant Float", a song that seems to float in mid-air, its charming, mellow grooves and fluffy pop feel both intoxicating and slumbering.

"Nothing But You and Me" is another album highlight, a twinkling array of creative sounds atop easygoing beats, a seemingly natural position for the band. Sounds of thunder roar in the background, giving the song somewhat of a rougher edge, but the pleasantness is hard to escape, the contrast helping to make everything gel.

Loose and airy, the ten-minute "Let's Be Still" melds everything the band is going for on the album. Sometimes well and other times not-so-well, but it is a great near wrap up for a pleasant, delightful album that stretches beyond what the band is known for and is executed with great detail. I'll give it a B+.