Myk Gordon
The Real Thing (Myk Gordon)
By: Alex Steininger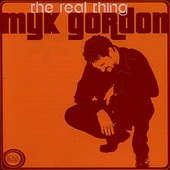 Recalling the AM radio that influenced him in his youth, Myk Gordon finds a new direction on his latest solo offering, The Real Thing, veering through blues, R&B, soul, and funk to come up with a groove-laden, danceable, rich sound that will instantly move you. Gordon musters up all he has to make his voice resonate with you, while the diversity of his playing - from the blues-y "Poor Poor Woman", the funky "Real World Melody", and the opening soul fire-starter "Do Your Thing" - makes you cheer him on.

With Gordon at the core of the songwriting, and in the producer's seat, his vision is fully realized. From start to finish, he conjures up the golden days of AM radio and creates a record that mirrors the early, exciting days of AM radio, making it equally accessible, and even more coherent. This is a golden album that aims high with its vision and lands right on its mark. I'll give it a B+.