Myron
Destiny (Island Black Music)
By: Sylvia White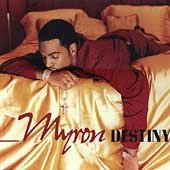 Myron, a new kid on the R&B block is here and with him comes one of the smoothest, most mellow albums of this year. The album, which I thought would be a knock-off of a few of the Neo-Soul artists such as D'Angelo and Maxwell, to my surprise was not. "Destiny" is an album of substance. It has funk, soul and definite groove. Myron as a vocalist has such a soft, almost nasal voice. At times it seems that he is trying to catch his breathe but you soon find that that is not the case at all. It's just his style. I came to eventually appreciate his vocals for the difference as compared to other male singers of today. It and he are to be heard.

Tracks like "We Can Get Down" which features a rhyme by the likes of Spinderella, of Salt-N- Pepa fame, is a track that is reminiscent of D'Angelo and his ability to swing the hips is a smooth sorta way. On "So Fly", we find another funk laced track that just screams at you to dance and get into it. I love it! "Destiny" the title and lead track off the album is just so smooth and liquidly. The lyrics being honest and the instrumentation hesitantly easy on the ear. Definitely one to hear and groove with.

"Come Around", includes a little poem/vocal by Myron that takes me back to the "Love Jones Soundtrack" and Lorenz Tate's dedication poem. The track takes off into a smooth state in which Myron gives us the reasoning as to why he no longer comes around to the woman who broke his heart. Another favorite! The track "See You Cry" sets the tone for the entire album it is a nice blend of groove and dedication, something that all the lyrics on this newcomer's album seems to be about. "So Damn Much", is another favorite, if not THE favorite of mine. So smooth, so easy, so mellow, so sexy. It sounds like it should be a heartbreak song but instead it takes you to another level of expression. Very Nice!

"Heavenly Girl", nice delivery and strict R&B flavor on this mellow tune. "Give My All To You" another wonderful one! What can I say?! I love it, from lyrics to instrumentation. Ironic though, this being one of my favorites and also being produced by Shawn Stockman of Boyz II Men fame who is one of the best writers in the industry in my opinion. "Hit It" takes a turn but not a bad turn. I find this one on the mediocre side and from this point on I find the album to be just ok. The next few tunes like, "Eastside Girl" and "You're My Everything" don't rank too high on my scale of listening. The track entitled, "Angel" being the only saving grace to this side of the entire collection, we see Myron delving back into the grooviness of the latter tracks. We end with a remixed version of the title track "Destiny" which could have been left off because I feel the original says it all and find there to be no need for addition variations.

The album as a whole gets a rounded 5. I never thought that a new artist would strike me this way but I have to say, Myron has got me hooked into his sound, his vibe and surely his style. I like what I am hearing and as long as he keeps the music pure and his vibe as smooth as this album then he is definitely an artist to be heard in the coming years. Welcome to the R&B club Mryon. I like what you bring! Check him out soon R&B fans.