Aereogramme
Sleep and Release (Matador Records)
By: Alex Steininger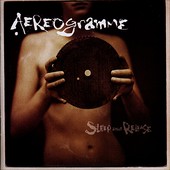 Scotland-based rock act Aereogramme follow-up 2001's A Story In White with Sleep and Release, a stunning collection of guitar rock, lush orchestration, and soft pop moments. From the crashing opening of "Indiscretion #243", its stop-start pace making your heart race as the guitars and rhythm section pound out a fierce rocker before settling down into a light tone to compliment the soft vocals, before turning it around again and letting it all blast. Then on "A Simple Process of Elimination" the band drops the rock, fusing electronic programming with violin orchestration, creating soft, airy sound textures to play around with. However, on the heavy "No Really, Everything's Fine", the chunky bass delivers a hard rock influence, while the building percussion also hints at hard rock, before the guitars too rip into some heavy noise. A then the band comes blazing at you with some hard rock-meets-punk excitement on "Yes", before ending the song on a light note. Keeping things semi-even, "In Gratitude" delivers more lush, orchestrated pop which fuses well with the harder side of the band.

An astonishingly beautiful, daunting, and ever-so-hard to pigeonhole collection of songs, Aereogramme's Sleep and Release captures your attention and never lets go, their roller coaster songwriting approach, from loud and bombastic to tender and sweeping, always keeping you on your toes. I'll give it an A-.