Mountaineers
Mountaineers (Mute)
By: Cam Lindsay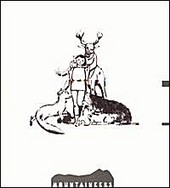 Weirdness achieved through computer noodling isn't so much a fresh, exciting trait in music today as it was long ago. Devo were masters, but after them, it became a common thing that anyone could do. Well, the Welsh outfit Mountaineers seem to think they can revamp and breathe life into it again. In a pleasantly surprising way, they have succeeded.

Their debut release, a self-titled, 6 track mini-album is a refreshing group of delightful pop songs fed through a Commodore 64. Like little brothers to Super Furry Animals or best friends of Simian, Mountaineers songs seem to be simply strange and not just because of the diverse sound effects. "Chicken" is an actual poultry-obsessed pop song that has a Beta Band mentality to it. "Clap In Time" is a soothing, romantic jazz thing happening, which quickly becomes toast one the glitches come in and turn it into a dub-friendly futuristic groove.

The psychedelia on this record is part sunshine and part robotica, but overall, a very good trip through the minds of some up-and-coming deranged geniuses.