SHOW REVIEW: Valentine's Day Ball 2003 - Carnivorous Flowers of the Night
Goddess Severina's 5th Annual Portland Fetish Masquerade Ball (Portland, Oregon)
By: Ramona DeNies
Photos By: Circle 23 Photography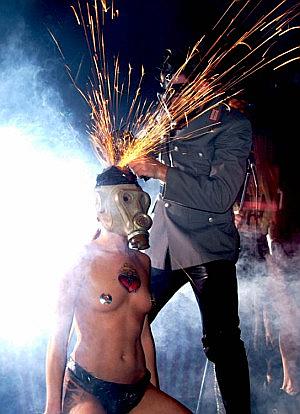 "Fuck the war with Iraq!" the crazed Nazi sadist screamed. "Fuck the fucking government!! THE ONLY THING WORTH FIGHTING FOR IS THE RIGHT TO FUCK AND SUCK!!!"

February 14, 2003 (Valentine's Day) -- For most of Goddess Severina's 5th Annual Portland Fetish Masquerade Ball, hordes of darkly exotic partygoers trooped up and down the Roseland Theater's massive central staircase under the watchful eyes of three cops. The cops stood in a close line against the stairwell, legs firmly planted at shoulder-width. The fetishists streamed past their stern Ray-banned gaze like a river of latex.

I remember wondering how they felt about this spectacle. Detached, in a morally patronizing way? Or maybe the cops were saying a few secret Hail Marys to deflect the specter of the Prince of Darkness? I sniggered to myself and decided to watch the cops for some kind of reaction.

I paused just beyond the current and parked myself next to a body-stockinged man hugging a glittery pink poodle toy.

How strange, I remember thinking, the cops seem totally into it. They're smiling, enjoying themselves. In fact, that one is fondling his partner's polyester-clad ass! Oh.

The "cops" weren't the only people working it that night.

Portland's favorite dominas, their slaves, and other worker bees in full discipline-wear buzzed busily throughout the multi-leveled party, never allowing for a dull moment for the Valentine's Day Ball's participants--those Severina had termed "Portland's Fetish Fashion Community."

She had planned the event to the hilt.

Portland's Written in Ashes was on the main stage as I arrived-it was 10:30 and the party was already seething with clowns in bare-assed chaps, black demon bunny rabbits, tight-lacer twenty-inch corsets, and of course, every variety of the three essential L's of fetish: latex, leather, and lace.

In between such bands as Written in Ashes, Ghost Parade, Sumerland, Popewyrm, and "shock-rock" headlining act the Impotent Sea Snakes, Portland's flowers of the night had only to let their eye wander to partake in the bounty of between-act entertainment.

One such treat was the series of BDSM tables along the main stage sidelines, where willing subbies dropped trou to be spanked, flogged, paddled, or otherwise mistreated by abusive bondage beauties.

Other visual stimuli included Go-Go dancers on platforms and tables scattered throughout the two main performance levels. The dancers, typically surrounded by drooling men in dog collars, writhed erotically to, yes, Rammstein-among other blood-pumping anthemic standards spun by DJs Drue and Carrion.

But Severina took the entertainment even further, enlisting such beautiful performance as the suspension acrobat who followed Written in Ashes.

Spotlit in the center of a dark stage, the woman gracefully contorted herself mid-air by manipulating a thin loop of fabric suspended from the stage roof. At one point in her performance, she hung motionless, implausibly supported only by the loop tucked under her back-tilted head. The audience went crazy.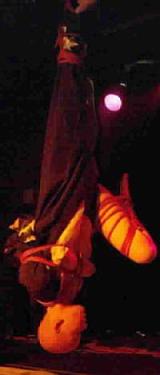 Later, after Sumerland's crowd-pleasing show on the street-level stage, a Japanese-inspired rope-performance act drew crowds by the silent complexity of the binding-or bare breasts?-of a beautiful, submissive "Japanese" girl by her knot-savvy mistress. Like an innocent fly caught in a spider web, the girl was laced to a supporting beam in a variety of gradually more intricate suspensions.
The knottage would no doubt have made Ira Levine, rope-bondage master extraordinaire, extremely proud.
The events seemed to be building in energy. After the final binding-which nicely coincided with the loss of all clothing excepting panties-I ran upstairs to catch Shift SS, an act which Azriel Sin of Ghost Parade had said was "not for the squeamish of heart."
He was right. In front of a flag-draped stage five or six figures stood in utter silence. I had missed the first few acts by Shift SS, and only a few individual performances remained.
It was enough.
As the crowd stood transfixed, a man slowly and methodically removed perhaps twenty long straight needles from his head-in his temples, behind his ears, along his jawbone, even his eyebrows. Blood ran down his torso in rivulets.
Excruciating as it seemed, this spectacle seemed tolerably comfortable compared to what followed. An androgynous figure with his back to the audience was obviously being assisted into some sort of harness. And yet, I wondered, where were the straps?
As the figure was hoisted off the ground twenty or so feet in the air, he slowly swung towards the audience. We gasped. Two giant fishhooks pierced cleanly through his chest. He was suspended by the strength of his own skin, spinning slowly, palms outstretched like a saint ascending to heaven.
I recall Severina's parting words to some Shift SS members later that evening; "Thanks for shedding some blood, guys."
Ouch.
The Impotent Sea Snakes were next-the grand finale. Severina strode onto the main stage, dazzling in chain mail and body armor. "Do I know how to throw a party or WHAT?!?" she yelled. We screamed back.
The stage lights dimmed, and the only empty minutes of the entire evening ensued, as the audience waited impatiently for the infamous Sea Snakes to take the stage.
When the smoke machines began pouring out billows of white fog, the crowd began to cheer. A voice began to float over the loudspeakers; it was Judy Garland singing "Somewhere over the Rainbow." Two onstage monitors began broadcasting sweet images of Disney's Alice in Wonderland. We waited for the hammer to fall.
The cheer turned into a roar when a giant Ozzy-font "ISS" suddenly lit up in a blaze of glam-rock glory. The silhouettes of band members began to appear onstage. Judy Garland phased out. A military man stomped onstage and took the mic and began abusing the audience at the top of his lungs.
"Fuck the war with Iraq!" the crazed Nazi sadist screamed. "Fuck the fucking government!! THE ONLY THING WORTH FIGHTING FOR IS THE RIGHT TO FUCK AND SUCK!!!"
The stage lights went on the blink and the Impotent Sea Snakes flooded the stage with their unique conflagration of power chords, fabulous glam-rock costuming, and outrageously kitschy fetish-BDSM performance candy.
Even that description doesn't really do them justice.
What word DOES describe a group that features nationally notorious drag queen Torment, boa constrictors, fire-breathers, men on stilts, domination skits involving a huge-breasted blond domina duct-taping, stripping, and paddling an unsuspecting male audience member, a Nazi flogging a female prop-later torturing her with flames, candle-wax, and a massive stun-gun-and applying a welding torch to the head and genitalia of a body-bagged figure, all to a catchy power-punk soundtrack?
As Torment, aka the infamous Patrick Briggs of Psychotica, said later, "It's called mayhem. We all have collective ADD."
Mayhem indeed. Yet as crazed poet Ezra Pound might have taught is, isn't there a method even in madness? That accolade would have to go to the evening's hostess. Congratulations to Goddess Severina for launching the party of the year.